Next To Last Night Sunday 11/27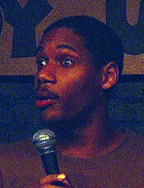 - Sadiki Fuller (Photo courtesy Peter Greyy seattlecomedy.net)
The dedicated comedy fans and downtown hipsters that make up the Comedy Underground audiences are definitely different that the others we've seen this week. Young, left, pan-gendered. Hip, perhaps - in a good rather than trendy way. The judges seemed to flow with the crowd and the situation. I think everybody in the room could have told you the order in which the contestants finished before it was announced.
5. Sadiki Fuller 4. Heneghen 3. Lamont Ferguson 2. Andy Peters 1. Graham Clark
Juan Moe time. Monday night, we will have a new champ.
Admiral Theatre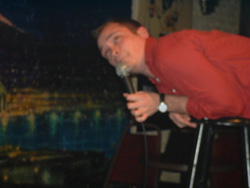 -Andy Peters goes All Out. (photo courtesy Peter Greyy, seattlecomedy.net)
The Admiral Theatre may have been the hottest crowd we've faced so far. And thats saying a lot for this years Competition. If you 've never seen the Admiral, it is a gorgeously restored theater with room for 400 in nightclub-style seating on the flat main floor, and another 370 in two steep balconies. And giant turquoise murals of naked mermaids. Wooo!
Those of you in the Kitsap/Bainbridge area are invited to check it out New Years Eve, as the Admiral presents "The Best of The Seattle Comedy Competition" that night, with comedy 'til midnight, then a DJ & dancing.
Oh yeah, the show. One of the most responsive audiences ever, nothing like cocktail service to lively-up a theater crowd!
Andy Peters, going up last, really rocked the joint - obviously the audience favorite, would have taken second by the judges scoring, but an overtime penalty bumped him down to third.
But here's his picture, since we already featured tonight's winner Heneghen in a previous entry.
1. Heneghen
2. Sadiki Fuller
3. Andy Peters
4. Graham Clark
5. Lamont Ferguson
Almost a complete reversal of Friday night's finish, proving once again that it ain't over 'til it's over.
Kirkland Performance Center Friday 11/25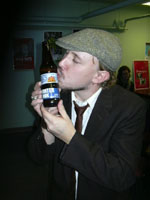 -Graham Clark is extremely pleased with the sponsorship.
It is always a pleasure to come to the Kirkland Performance Center. This theater draws an always responsive, engaging, happy and all around great audience. Smart, too. And probably rich. No offense to Ikea.
The night was sold out weeks in advance, which means the theater personnel and the producers were cheerful as heck.
And the comics delivered a wonderful show. All the judges came from the entertainment industry, which always makes for some interesting scores. Close, though - literally hundreths of a point separating the performers.
The top 5 for the night are:
1. Lamont Ferguson
2. Graham Clark
3. Heneghen
4. Sadiki Fuller
5. Andy Peters

Opening Night of Finals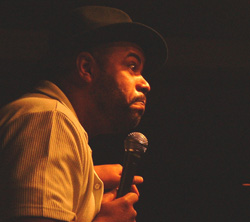 Lamont Ferguson
-photo: Peter Greyy, seattlecomedy.net
"Upscale" is how one might describe the general area around the Redhook Ale Brewery in Woodinville, Wa. It's located on a strip of country road, nestled between the Columbia Winery and the Willows Inn, neighbors with the world-famous Herb Farm restaurant and kitty-corner from Ste. Michelle.
It's also how one might describe the audience, who turned up Thanksgiving Eve for a late (9:30 PM) Finals opener.
A better description might be "discerning." With disdain for the crass and kudos for the class, they made their opinions known, as did the distinguished panel of judges. Although it should be said that all 5 finalists had their supporters, if the the post-show chatter was any indication.
With the crew managing to position the stage, sound and lights to avoid the inverted-mushroom industrial design fixtures, and the audience settling in almost immediately after a short intermission (Woodinvillians appear to be used to such things), the show went off smoothly.
As did the performance of the night's leader, Lamont Ferguson. In second spot was Graham Clark, followed by Sadiki Fuller, Andy Peters, and Heneghen.
The producers wish you all Happy Thanksgiving. Count your blessings. Sleep in. That's what we're doing.

Finals Ticket Alert
Please note that the show at Kirkland Performance Center Friday Nov. 25 is SOLD OUT. There are just a few seats left for the Admiral Theatre in Bremerton Saturday (check with the box office), and tickets are available for the Sunday night show at The Comedy Underground. Please click on the appropriate venue listing to the left for more info.
The Funniest Five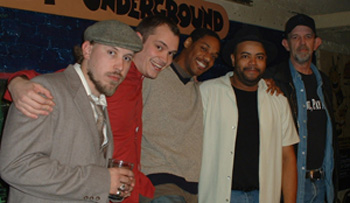 2005 Finalists Graham Clark, Andy Peters, Sadiki Fuller, Lamont Ferguson, Heneghen
photo courtesy of comedian Peter Greyy of seattlecomedy.net
By virtue of virtuoso performances and the wacky arithmetic that is the Comedy Competition scoring system, these are your finalists, ladies and gentlemen.
The producers wish to thank Dave Metcalfe, Jy Harris, Erica Sigurdson, Erik Griffin, and Meghan Hounshell, who helped make this semi-final round great. Any combination of these ten fine comics would have made an excellent finals week.
The producers also wish to thank comic Peter Greyy, proprietor of seattlecomedy.net, for his running journal of this event, and for bailing us out with some nice photos, as one of our digital cameras had an unfortunate accident involving Bailey's Irish Cream and the other is moldering in a tack locker in Marysville.
I promised him this link, which may or may not work since I can't write code: www.seattlecomedy.net
Jimmy Jacks Classic Rock Cafe 11/20
Jimmy Jacks drew a crowd that demanded you be funny. It was a crowd that was totally different from the other nights of the sem-finals. So much of comedy is not a cake walk of "A" rooms where the audience will laugh at everything you say. No, that's tomorrow night at Swannie's and even there intelligent humor wins out. This was a room that would laugh if you were willing to sell yourself and what you were saying and that is part of the reason why this is such a difficult contest. The comedians who make it into the Competition face a wide range of venues and a wide range of crowds. Some crowds will only respond to intelligent humor. Some will not pay attention to jokes with subtle nuances that make them hysterically funny. As a comic, you have to judge the room and present the material you think will work best or you will not fare well at all.
Speaking of how people fared, this is the top five for the night:
1. Heneghen
2. Andy Peters
3. Jy Harris
4. Graham Clark
5. Lamont Ferguson
Going into the last night of semi-finals, all 10 contestants have finished in the top 5 at least once. The point spread is so small that a hundredths of points are what separates this field. If you rounded the scores to an even number, seven people would be tied for third place. Seeing how this is a contest where only five of the ten people advance to the finals, you get an idea of how tight this race has been and how tight it is going into the final show of the semi-finals.
This event will not be decided until Monday night at the Comedy Underground. I hope you can join us for what promises to be an amazing show.
- Wally Glenn
Vashon Theater, Vashon Island
For the fourth night of the Semi-Finals, we took the show to the Vashon Theater on Vashon Island. The Competition has never been to Vashon before, which has been a huge oversight. This was a wonderful show to a packed audience.
The unofficial top 5 for the night are:
1. Erica Sigurdson
2. Sadiki Fuller
3. Heneghen
4. Lamont Ferguson
5. Jy Harris
Giant showrooms are nice, but we've been missing playing the bars, so tomorrow, we're heading back to a bar for a night or two. Please join us at Jimmy Jacks in Everett or the Comedy Underground in Seattle to close out the Semi-FInals. It will be a really great show.
- Wally Glenn
Lucky Eagle Casino, Rochester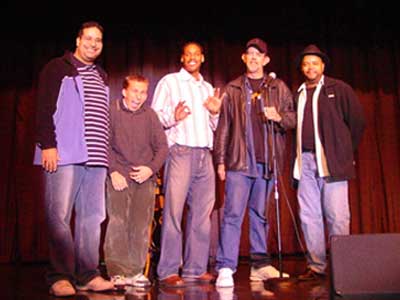 Twenty miles south of Olympia, you find this little slice of comedy heaven in the form of the Lucky Eagle Casino in Rochester. We have been coming here for years and like the Skagit last night, it is always an enjoyable experience. At the Skagit Casino, we had a huge crowd with over 450 people in the showroom. At the Lucky Eagle, it's almost double that number. They came to laugh, we came to do comedy and the results were just great. Special thanks to Mike Wally Walter for always making us feel welcome.
Top Five
The top 5 comics at the Lucky Eagle were:
1. Heneghen
2. Lamont Ferguson
3. Dave Metcalfe
4. Erik Griffin
5. Sadiki Fuller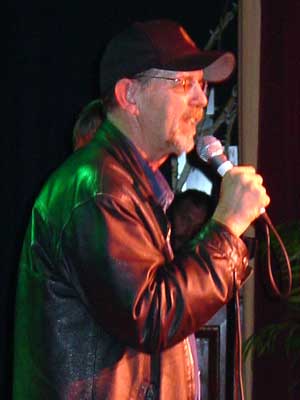 The only weird quirk was the programs. At every show we hand out a program. It's a simple page with the dates of the shows in that round, a list of the comics with a headshot and a link to this Web site so people can follow along at home. So far we have had no problem handing them out. But tonight, people at first refused to take them. I'd ask them, "would you like a program?" 'Oh, no thanks,' they would reply. "Please, take one," I would say, "it's free!" Once they heard "free" they reluctantly took them.
Then the thought hit me. Could I have actually gotten away with selling these to people? I had visions in my head of making a small fortune on the publishing of a white flier. Maybe next time we should put a KENO card on the thing as well. Nobody runs from a KENO card.
Return of the Heneghen
Just to prove Lamont Ferguson is not the only contender, Heneghen came back with a win tonight in front of a crowd of over 700 people.
Every night when we tabulate the scores, Heneghen grabs a sheet and starts to analyze the results. Generally behavior likes this has brought down many a comic who over-analyzes the results and psyches themselves out of the running. But Heneghen is a numbers man. He seems to have found a way to take it all in and make it work for him in a positive way.
- Wally Glenn
Semi's Night 2 - Skagit Casino Resort
Lamont Ferguson does it two nights in a row!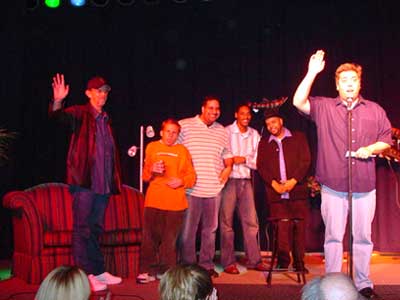 It's nice to get treated like stars - which is what happens when we visit the Skagit. Our photos share wall space with the likes of Gladys Knight, The Smothers Brothers, and Tanya Tucker, we have food and beverage in the green room. There's a full crew, the stage is dressed. The Pacific Showroom, capacity 450, has been sold out for months. Ah, Show Business.
And thanks to special guest Rick Rockwell for entertaining while we tabulated.
The unofficial top 5 are:
1. Lamont Ferguson
2. Sadiki Fuller
3. Erik Griffin
4. Dave Metcalfe
5. Heneghen