Menu
Home Page
Comics
Comics: Week 1
Comics: Week 2
Semi-finals
Finals
Tour Schedule
Buy Tickets Now
News
Photos
Comedy Underground
Redhook
Upcoming Shows
Sat, Dec 31, 2005 - 08:00 PM
New Years Eve, Kirkland Performance Center


New Years Eve, Admiral Theatre, Bremerton

Next To Last Night Sunday 11/27
Monday, November 28, 2005 - 03:02 PM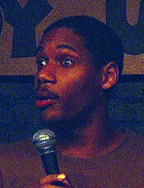 - Sadiki Fuller (Photo courtesy Peter Greyy seattlecomedy.net)
The dedicated comedy fans and downtown hipsters that make up the Comedy Underground audiences are definitely different that the others we've seen this week. Young, left, pan-gendered. Hip, perhaps - in a good rather than trendy way. The judges seemed to flow with the crowd and the situation. I think everybody in the room could have told you the order in which the contestants finished before it was announced.
5. Sadiki Fuller 4. Heneghen 3. Lamont Ferguson 2. Andy Peters 1. Graham Clark
Juan Moe time. Monday night, we will have a new champ.
-