O Canada! Damonde Tschritter Wins!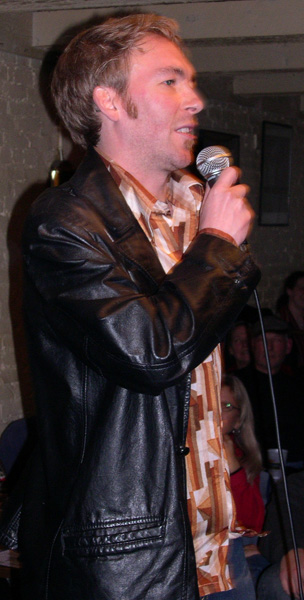 "Cinderella Man" in action.
Photo by Peter Greyy
A Canadian has finally won the Seattle Comedy Competition. For years there was a rumor that this contest was fixed against Canadians, but Damonde Tschritter managed to scotch that rumor and restore the luster of our reputation in the Great White North.
Speaking of the Great White North - tonight, a cold front came down from British Columbia, bringing with it a rare snow storm to Seattle. From Production Staff member Wally Glenn: "At first I thought it was a freak of weather, but just before I left for the Comedy Underground and scraped snow off my car, I realized that this was no ordinary cold front, it was the ghost of Kerry Talmage coming to take the crown to Canada!"
Here's the story, as best we can remember it in our depleted state: Long ago, a very funny young Canadian comedian named Kerry Talmage was set to win the Seattle International Comedy Competition. He was the favorite for the week, but an emcee called him out of order and he was not ready to go. He had a weak set and finished second. Since that time, many Canadian comics have made the finals, but have never won the Competition. Thus a legend and a curse was born. No Canadian could possibly win the Seattle International Comedy Competition. It isn't true, but it's been one of those things whispered in the background of the competition.
Sadly, Kerry passed away a few years ago, but before he died, apocryphically, he told Damonde Tschritter to go and win this competition.
It wasn't going to be an easy task. It should be mentioned that Rory Scovel had his best set of the entire competition. Damonde had possibly his weakest set of the week, but with two first place wins, the "Cinderalla Man" somehow managed to pull it together and take first place for the contest.
Here's how they finished. You can see how close it was.
1 Damonde Tschritter Vancouver BC 42.51
2 Paul Myrehaug Toronto 42.21
3 Rory Scovel Washington DC 42.16
4 Tyler Boeh Portland OR 41.63
5 Dylan Mandlsohn Toronto 41.32