Menu
Home Page
Comics
Comics: Week 1
Comics: Week 2
Semi-finals
Finals
Tour Schedule
Buy Tickets Now
News
Photos
Comedy Underground
Redhook
Upcoming Shows
Sat, Dec 31, 2005 - 08:00 PM
New Years Eve, Kirkland Performance Center


New Years Eve, Admiral Theatre, Bremerton

Update Sunday November 7
Sunday, November 6, 2005 - 04:31 PM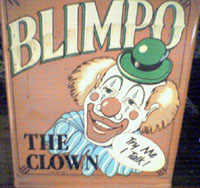 There are women nagging me to update this report who I'm not even married to.
First - Friday Nov 4 - first ever late-night Seattle Comedy Competition show, 10:30 PM at fabulous hipster joint CHAC Lower Level. Packed! Great time, coulda used a few more chairs even. Considering how long this show is (17 comics is much longer than 15 for some reason), everybody really hung in until the wee hours. 1st Place went to San Diegan Mark Serritella, followed in rapid succession by Canadians Graham Clark and Jennifer Grant, 4th to Heneghen, and 5th a tie between Andy Peters and Travis Simmons.
Saturday Nov 5 - Three words: winter driving conditions. We've been pretty lucky with weather the last few Novembers, thanks to global warming. It was bound to catch up with us. We all made it fine, mostly, although Josh Di Donato was in a minor accident on Snoqualmie Pass - he was sideswiped by a pickup truck, not his fault, also he wasn't badly hurt (nor was the other driver). Little bit of a sore neck, hope it doesn't get any worse.
Show was sold out.
Four words: Drunk chick front row. Loud drunk woman & friends, in the front row, of course, ruining some peoples' sets, big galoots in "Security" shirts don't support the way they should, MC Duane Goad is finally forced to ask them to "shut the F* up" - this of course makes the husband/boyfriend or whatever want to kill him. They are finally kicked out but don't actually leave, hang out in the back of the room loudly and drunkenly defending their behavior.
Again, like the car accident, no one was hurt, and the last 4 or 5 comics actually got to be heard. No harm no foul.
Then, miracle of miracles, next to the hotel is a combo Karaoke Bar and 24-hour diner. Hmm,hmm.
The hotel owners are in for a bit of a shock if they review their second floor security cam tape.
We are all in for a bit of a shock when this morning we find out that I-90 is closed due to mud and rock slides. We send everybody back to Seattle via US12 and White Pass. Not a terrible drive, although it does take over 4 1/2 hours instead of 2 1/2.
Order of finish: 1. Andy Peters 2. Rodgler Lizaola 3. Travis Simmons 4. Graham Clark 5. Lamont Ferguson.
Nine different people finished in the top 5 over the first 3 nights.