Whidbey Island Center for Arts
Over on the ferry and through the woods, to the Whidbey Island Center for the Arts we went...to present Night Five of Preliminary Week Two of the 31st Annual Seattle International Comedy Competition. This was our only visit to Whidbey Island this year and we were pleased to find an enthusiastic audience who seemed to love the variety of stand-up comedy styles and perspectives that this show offered them... With any luck, this first time will not be the last time that the competition comes to Whidbey Island.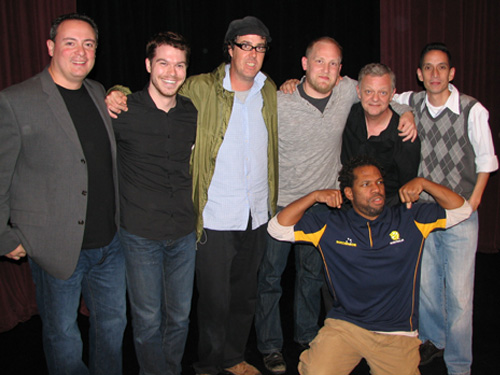 L-R: Lars Callieou (Host), Drew Barth (1st Place), Brad Brake (2nd Place), Billy Wayne Davis (3rd Place), Nathan Brannon (kneeling...and Tied for 5th Place), Keith Wallan (4th Place), Tony Dijamco (Tied for 5th Place).
As is true with any unfamiliar audience, it takes a little bit of time to feel things out and get a read of the room. Luckily, our host for this week--former SICC finalist Lars Callieou--did an excellent job of warming them up and presenting a stage where everyone could succeed--something born out by the fact that, even this late in the week, two performers made their first ever Top 5. Tony Dijamco (who tied with Nathan Brannon for 5th Place) and Keith Wallan (who took 4th) have been having good sets but just not the type of performances that got their name called at the end of the show...until tonight.
Top Five:
Drew Barth (Seattle, WA)
Brad Brake (Seattle, WA)
Billy Wayne Davis (Seattle, WA)
Keith Wallan (Vancouver, WA)
Nathan Brannon (Portland, OR) - tie
Tony Dijamco (San Francisco, CA) - tie
Joining them were a clean sweep of the traditional "podium positions" by Seattle-based performers. This is especially impressive when, typically, Preliminary Week Two tends to house the best "out of area" participants in the competition...so, props are due to Billy Wayne Davis, Brad Brake and...earning his first top honor of this year...Drew Barth.
The scores are close and there's only one more night left for our contestants to claim any of the last five open slots in this year's Semi-Finals. The Sunday night show at The Fairhaven in Bellingham will decide who stays for another week and who, sadly, will have to return home... Should be exciting!