Vera Project
The 31st Annual Seattle International Comedy Competition got underway with the first show of Preliminary Week One. The show took place at the VERA Project, at the Seattle Center in Seattle. This was the competition's first ever visit to VERA Project--an ambitious all-ages venue that regularly puts on rock concert and dance nights for those unable to enjoy that type of entertainment at alcohol-serving establishments...and they do really are active in engaging and interacting with young creative types...getting them involved with show production, light and sound work and even silkscreening of posters and t-shirts.
Starr and the staff of the VERA Project made things very comfortable for our sixteen contestants--a nice way to ease into what can be a very tense and anxious process of putting your comedic talents up against the comedic talents of others seeking the favor (and the scores from our judges). The audience was very receptive to the efforts of our performers and I think a fun night was had by all.
It may not come as a surprise as this year's winner of the San Francisco Comedy Competition, Auggie Smith--who is trying to do the unprecedented and win both that competition and our Seattle International Comedy Competition in the same year--is the person who came out on top on this night. What may be a surprise is exactly how close the scores were...as Toronto's Claire Brosseau placed second with a score that was a mere .03 behind Auggie's.
Dax Jordan confidently strolled into third place while the newly relocated to Seattle Mike Drucker couldn't hide his pleasure at really delivering a solid, crowd-pleasing set that earned him a fourth place finish.
The big drama of the night came from Joe List, who missed his flight from New York to Seattle, had to scramble to get on a later flight and didn't actually get to the venue until the 15th performer of the night was already on stage. Luckily, Joe was scheduled to go up next...in the 16th slot...and still managed to deliver a set strong enough to earn him a spot in the Top 5.
Close, but just missing tonight's top 5 were Portland's Virginia Jones as well as Seattle's Kortney Shane Williams and Derek Sheen.
With one show under their belts, and having gotten to see how strong they and their fellow competitors are, our intrepid performers now head south...to perform at the Great American Casino in Lakewood for Show Two of Preliminary Week One. Tickets are still available, show time is 8pm.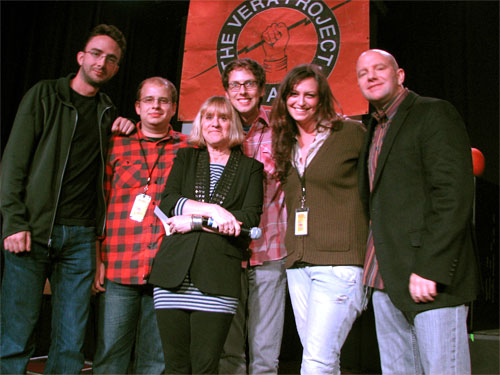 List, Drucker, Barrett, Jordan, Brosseau, Smith
Top Five:
AUGGIE SMITH (Portland, OR)
CLAIRE BROSSEAU (Toronto, ON)
DAX JORDAN (Portland, OR)
MIKE DRUCKER (Seattle, WA)
JOE LIST (New York, NY)
Jon Fox adds:
Opening night provided a unique challenge as the Vera Project primarily draws an under 21 crowd and there is not alcohol served. Contestant Joe List missed his flight from New York but in a demonstration of excellent sportsmanship his fellow competitors agreed to let him go on last if he could get there in time. He arrived as the penultimate act was on stage and came through with a great set that put him in the top five for the night.