Vashon Theatre
The impact of "Arctic Blast 2010" on the residents of Western Washington is certainly greater than just losing out on the scheduled first night of Finals for the 31st Annual Seattle International Comedy Competition--which was going to be a private show for the members of the Washington Athletic Club. However, the fact is...the weather made THAT show impossible...and it almost made THIS show, what was supposed to be our second night of Finals at the Vashon Theatre on Vashon Island. The storm had knocked out power to the entire island--and it wasn't certain if it would be up in time for our show on Wednesday night. Thanks to the hard work of so many people, the power was restored and the residents of Vashon Island were able to come to a warm Vashon Theatre and see a great night of comedy.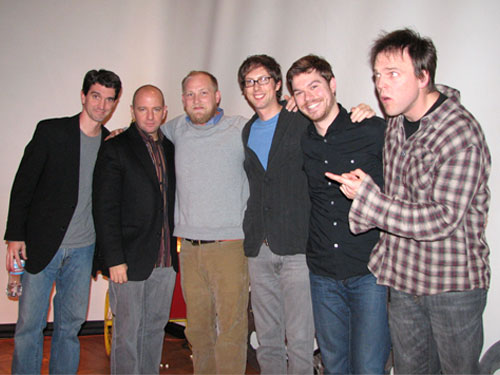 L-R: Drake Witham (Host), Auggie Smith (1st), Billy Wayne Davis (2nd), Dax Jordan (3rd), Drew Barth (4th), Eddie Pence (5th)
It was also Auggie Smith's birthday--so, the fact that a candle was lit at the end of the night was not because the power went out again...but because a cake was being delivered to the stage.
Top Five:
Auggie Smith (Portland, OR)
Billy Wayne Davis (Seattle, WA)
Dax Jordan (Portland, OR)
Drew Barth (Seattle, WA)
Eddie Pence (Los Angeles, CA)
I'm not sure Auggie needed a cake, because he took top honors on the night with a strong performance...on a night where all four finalists had strong performances.
The second of four shows this week will take place at the Kirkland Performance Center in Kirkland on Friday night. Every show is so important and this could be the night that the champion is determined!