The Upstage Nov 10
Not every night of the Seattle International Comedy Competition will give you a chance to play one of the legendary comedy clubs in one of the smartest cities for industry judges. Sometimes, you get to travel across sea and land to the beautiful (if a bit foggy) city of Port Townsend, where a quaint and lovely jazz club/restaurant called The Upstage awaited our sixteen participants in Preliminary Week Two for the second night of their week.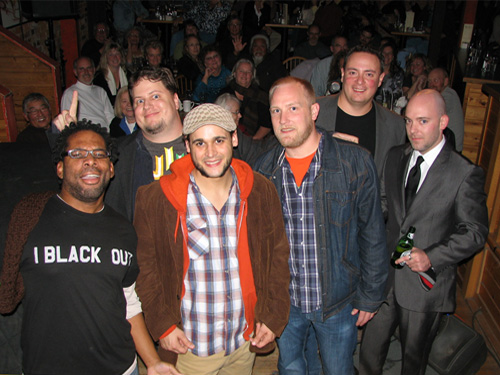 L-R: Nathan Brannon (3rd Place), John Wessling (1st Place), AJ Finney (4th Place), Billy Wayne Davis (5th Place), Lars Callieou (Host) and Matt Davis (2nd Place)

This is the second year in a row that the competition has had a show at The Upstage, which was filled with people looking forward to a great night of comedy. Compared to the audience from the first night, the demographics were definitely different, and it caused our performers to consider making some adjustments. Some, in fact, did make adjustments--Andy Wood brought out his guitar, Keith Wallan was much more calm than the rather apoplectic presentation offered on the first night, and Nancy Reed seemed right at home with a crowd that was a little older and a little more comfortable than the audience had been on night one.
What seemed to bring out the biggest smiles and laughs during the night was when the based laid plans of some of the comedians went awry, and had them making adjustments on the fly. Evidently, the good people of Port Townsend didn't mind some comics taking their frustrations out on them or their town--as Billy Wayne Davis earned the biggest laugh of the night by saying that "Port Townsend is where hippies go to die."
Top Five:
John Wessling (Houston, TX)
Matt Davis (Birmingham, AL)
Nathan Brannon (Portland, OR)
AJ Finney (Kansas City, MO)
Billy Wayne Davis (Seattle, WA)
That helped Billy Wayne earn a Fifth Place finish on the night. He was joined in the Top 5 by AJ Finney in fourth, Portland's Nathan Brannon in third, Matt Davis in second...and, making a major recovery after an opening night placement that disappointed him, was Houston's John Wessling who took top honors for the night.
Also scoring well were Dan Boulger, Nancy Reed, Danielle Radford and Andy Wood...and, for the second straight night, every performer on the bill earned their encore point.
The competition returns to more familiar territory, as Night Three will be held at Laughs Comedy Spot in Kirkland.