Skagit Casino
There is a moment when participating in the Seattle International Comedy Competition stops feeling like a competition and it makes you feel like you're really and truly in show business. I tend to think it happens during the weekend of the Semi-Finals Week--specifically, with the Friday night show at the Skagit Valley Casino.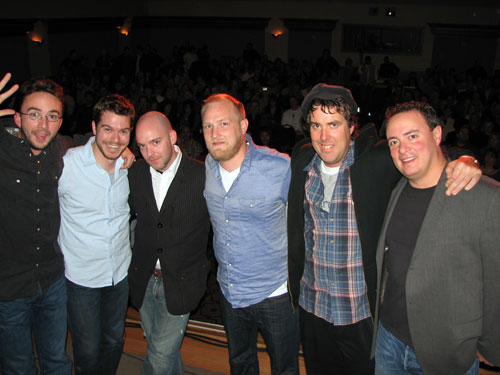 L-R: Joe List (4th), Drew Barth (2nd), Matt Davis (5th), Billy Wayne Davis (3rd), Brad Brake (1st), Lars Callieou (host)
The facilities are amazing, the staff bends over backwards to make certain everyone has everything they need for the best possible show and then there's the audience--who buy up every ticket for every seat every year that we've presented the show here.
And this year, our competitors--one and all--rose to challenge and gave them a show that made all of their efforts, all of the perks (like the buffet!) and the attention of the audience all worth it.
Not that it was without drama, as Auggie Smith chose to personally introduce himself to a woman who simply couldn't stop herself from participating (unwelcomely) with the show. Auggie cordially invited her to enjoy the rest of the facilities at the Skagit Valley Casino and Resort--which she promptly did.
I don't think that's why Auggie Smith failed to make the Nightly Top 5 on this night--it was more that other people stepped their game up to earn their spots in the Top 5. That includes an example of when a performer, an act and an audience all seemed to gel into one perfect moment--which happened tonight when Brad Brake totally rocked The Pacific Showroom...and earned himself an undeniable first place finish for the night.

Top Five:
Brad Brake (Seattle, WA)
Drew Barth (Seattle, WA)
Billy Wayne Davis (Seattle, WA)
Joe List (New York, NY)
Matt Davis (Birmingham, AL)
Still, Drew Barth was only a heartbeat behind him in 2nd place and Billy Wayne Davis had another strong performance to snag 3rd place. Joining Joe List in tonight's Top 5, and making his first Top 5 appearance for the week--something that's surprised everyone, including himself--was Matt Davis.
A wonderful night for everyone involved...worth the drive through insane traffic and the threat of snow, to be sure. And it continues with another big show on Saturday night at the Lucky Eagle Casino in Rochester.
The scores are close enough that if someone can put together a charge in these last few shows, they'll find themselves sticking around for another week instead of heading home--as only five of these comedians will make the Top 5, despite all of them deserving to...