Lucky Eagle Casino
Competition Producer Ron Reid always kids me that I refer to this show as our "stadium comedy" night--but how else can you describe a night where you absolutely pack 900+ into a bingo hall with a stage big enough to hold a proper Broadway musical? Performing on stage at the Lucky Eagle Casino in Rochester is a total rockstar experience.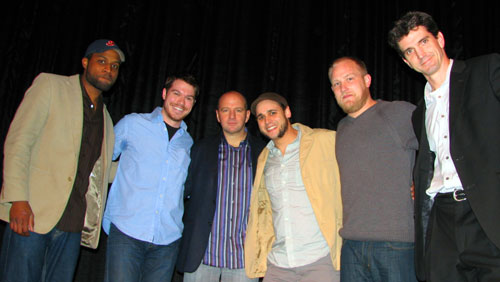 L-R: Kortney Shane Williams (5th), Drew Barth (4th), Auggie Smith (1st), AJ Finney (3rd), Billy Wayne Davis (2nd), Drake Witham (Host)
Of course, getting your comedy across to a festival-sized audience is a distinct challenge. The audience is further away than they were at the Skagit Valley Casino show (with the judges table in between the punters and the stage) and making certain that you're getting them involved and getting yourself across is vital to success in this room.
And, we're running out of Semi-Finals Week! This is the fifth of six shows, and people who hope to move on to the Finals Week NEED good scores--adding to the pressure that everyone must have been feeling.
Luckily, the audience was definitely into the show and loved everybody.
Top Five:
Auggie Smith (Portland, OR)
Billy Wayne Davis (Seattle, WA)
AJ Finney (Kansas City, MO)
Drew Barth (Seattle, WA)
Kortney Shane Williams (Tampa, FL)
Kortney Shane Williams, who had been racking up solid scores while somehow managing to just miss a few Nightly Top 5's all week, made the perfect adjustments and had one of his strongest sets of the competition on this very important night. It earned him a 5th place finish for the night and yet another solid score.
Yet, his achievement was matched by AJ Finney, who'd struggled earlier in the week to find his footing in this very competitive week. AJ put the pieces together tonight, straight out of the bullet spot, and grabbed third place for the night--his first Nightly Top 5 of the week.
With AJ and Kortney making a Nightly Top 5, it means that EVERY Semi-Finalist has made a Nightly Top 5--and if that doesn't hint at how strong this week, and every competitor in it, has been...I don't know what will...
Meanwhile, there's no denying who have been the strongest scoring competitors this week...and their familiar faces fill out the Top 5 for tonight--with Drew Barth taking 4th, Billy Wayne Davis in 2nd and, with his first top honors of this week, Auggie Smith built and built and built until 1st place could be given to no one but him.
What does all of this mean for the standings? Going into the final night, Sunday at the Hard Rock Cafe in downtown Seattle (the first time the Competition has ever gone there)...eight of our ten competitors are still in the mix for the five spots in the Finals.
Should be an exciting Sunday night in downtown Seattle!