Laughs Comedy Spot Nov 11
The 31st Annual Seattle International Comedy Competition made its one and only visit, this year, to one of our favorite venues--Laughs Comedy Spot in Kirkland, for Night Three of Preliminary Week Two. Dave, Angela and the staff at Laughs do a great job making sure that all of our needs are attended to and that the show comes off without a hitch...and this night was no exception.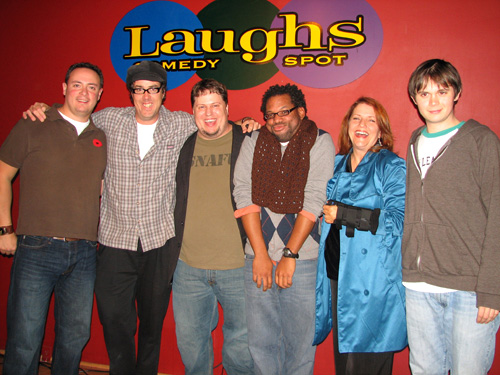 L-R: Lars Callieou (Host), Brad Brake (1st Place), John Wessling (3rd Place), Nathan Brannon (5th Place), Nancy Reed (4th Place), Dan Boulger (2nd Place)
From Billy Wayne Davis (who went up first) to Drew Barth (who went up last)--the audience on this night was attentive and into the show. They appreciated the different variety of comics in this week and seeing how their approaches to comedy worked their funny bones. Not surprising, then, to see a variety of styles represented in the Top 5 of the night--as the judges did seem to be representative of what the crowd was experiencing.
Top Five:
Brad Brake (Seattle, WA)
Dan Boulger (Boston, MA)
John Wessling (Houston, TX)
Nancy Reed (Austin, TX)
Nathan Brannon (Portland, OR)
Two comics made their first appearance in the Top 5 on this night. The laid back, confident style of Nancy Reed earned her a fourth place finish on the night...while the mad energy and while twisting turns of a Brad Brake performance sparked the crowd enough to push him all the way to the top spot for the night.
Meanwhile, Nathan Brannon made his second straight Top 5 tonight, as did John Wessling. Dan Boulger re-entered the Top 5 after missing out on it the night before. Also scoring well were Matt Davis, Drew Barth, AJ Finney, Billy Wayne Davis and Vintz Fluke.
The audience was entertained while the scores were being tallied by Lachlan Patterson, who will be headlining Laughs this weekend...and it is always good to get to watch Lachlan work!
One thing to watch out for over the next few days is the relative health of our competitors. Tony Dijamco was looking mighty poorly before the show began and AJ Finney's voice was starting to give out. The pace of this competition is brutal, leaving performers little down time to rest and recuperate. Hopefully both of them will get healthy quickly...because there are more challenges and audiences to face before this whole thing is over.
Next up...the competition returns to the Auburn Avenue Theater for another Friday night show. Our participants will once again discover if they can perform a "TV Clean" set...and how that impacts their decisions in trying to entertain the crowd and win over the judges at the same time.