Great American Casino - Lakewood
The impossibly nice weather continues to shine down pleasant blessings upon the contestants of the 31st Annual Seattle International Comedy Competition, giving them all entirely the wrong idea about what November in the Pacific Northwest is really like.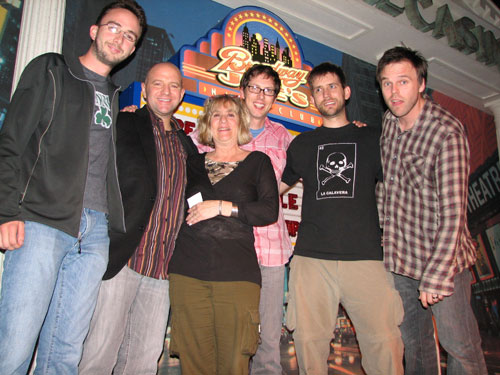 Joe List, Auggie Smith, Jan Barrett, Dax Jordan, Jake Sharon, Eddie Pence
Night Two of Preliminary Week One of this year's contest took us to Lakewood, Washington for our first ever event held at the Great American Casino, where we partnered up with Big City Comedy, who run comedy events there regularly. It is an impressive looking room with one of the best behind-stage murals I've ever seen in comedy. We had a good crowd who were there to see what our 16 performers in Preliminary Week One had to offer...
And they offered up a great night of comedy...with all of the performers on this night earning themselves the "tremendously obvious encore point."
Our judges tonight definitely had their group of favorites--seven performers were bunched very close to the top of the scoring sheets tonight. Perhaps the biggest news coming out of Lakewood on this night was that this year's San Francisco Comedy Competition Champion, Auggie Smith, will NOT run the table in taking first place in every night he's in the Seattle International Comedy Competition. Auggie, who DID take first place on the first night of the week, takes a quite respectable second place on this night.
Top Five:
JOE LIST (New York, NY)
AUGGIE SMITH (Portland, OR)
DAX JORDAN (Portland, OR)
JAKE SHARON (Denver, CO)
EDDIE PENCE (Los Angeles, CA)

First place goes to New York's Joe List...making his second straight appearance in the Top 5, as did Auggie...and as did Portland's Dax Jordan who places third for the second straight night. Very consistent, our Dax.
Two newcomers to the podium round out our Top 5 for this night. Fourth place went to Denver's Jake Sharon and fifth place went to Eddie Pence from Los Angeles.
Kortney Shane Williams and Boston's Dave McDonough tied for sixth place last night.
Friday night brings the competition to the Auburn Avenue Theater for a show with a slightly earlier start time--the show begins at 7:30pm, if you're planning on coming to the show...don't be late!
This show at the Auburn Avenue Theater should be quite interesting as it is going to be run under "TV Clean" guidelines--forcing some of our competitors to re-imagine their sets in a way that would allow them to perform on network television in prime time.
Who will make the right choices? Will there be more newcomers to the Top 5? We'll find out soon!

Next Up: Auburn Ave Theatre - Auburn.