Fairhaven Pub
The last night of Preliminary Week Two would determine which five performers would join the Top 5 performers from Preliminary Week One in the Semi-Finals...and in a week of strong performers, where 12 of the 16 performers would earn themselves a spot in a Nightly Top 5, a lot was depending on how these performers would handle the challenge of The Fairhaven in Bellingham on a Sunday night.
To their credit, the audience at The Fairhaven--having earned a reputation as dream-killers for wild results on previous competition years' shows--were on their best behavior on this night...and every performer on the show tonight brought their very best.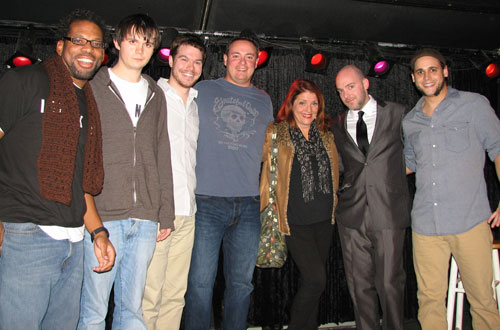 L-R: Nathan Brannon (5th Place), Dan Boulger (Tied for 4th Place), Drew Barth (Tied for 4th Place), Lars Callieou (Host), Nancy Reed (3rd Place), Matt Davis (2nd Place) and AJ Finney (1st Place).
Danielle Radford, for one, had perhaps her best set of the week. Nancy Reed did as well. For a night where so much was on the line, there was a loose spirit in the air and that really helped some performers do what they do best.
John Wessling knew he needed to put together an awesome set to leap up from 8th to the Top 5 for the week...and he went for it. Of course, Nathan Brannon and AJ Finney also needed to make that same climb and both of them had strong sets...and none of the people actually IN the Top 5 for the week going into this last night were just going to let any of them push them aside.
AJ Finney (Kansas City, MO)
Matt Davis (Birmingham, AL)
Nancy Reed (Austin, TX)
Drew Barth (Seattle, WA) - tie
Dan Boulger (Boston, MA)
Nathan Brannon (Portland, OR)
So, when the Top 5 for this night were announced...the drama began to reveal itself. Had AJ Finney, earning top honors for the night, done enough to push himself up from 6th place... Had Dan Boulger, who was in 5th Place going into the night and placed 4th on this night, done enough to hold on?
The difference between 4th place (where AJ Finney ended up for the week) and 6th place (where Dan Boulger ended up) was three tenths of a point. After six shows, hundreds of scores from a score of judges, that's the measure of heartbreak...as Dan Boulger heads back to Boston and AJ heads to the Semi-Finals.
No shame, though, for anyone who brought their best to this week...as we could have brought any of this week's participants to the Semi-Finals and they'd have represented their week admirably. It was that strong of a week.
Still, this is a competition so, here's who, officially, moves on.
Top Five:
Drew Barth (Seattle, WA)
Matt Davis (Birmingham, AL)
Billy Wayne Davis (Seattle, WA)
AJ Finney (Kansas City, MO)
Brad Brake (Seattle, WA)
The Semi-Finals will bring these five comedians together with the Top Five from Preliminary Week One for another six shows of comedy competition...to find the Top 5 from the two Top 5's!