Fairhaven Pub
So, it was another loud and rowdy night at The Fairhaven in Bellingham--one of the places the Seattle International Comedy Competition challenges our contestants with every year. Some Preliminary Week One comedians made significant changes in what they offered...while some stuck to their guns. All in all, I think all of this week's comedians proved their mettle by surviving this test. Some, however, survived it better than others.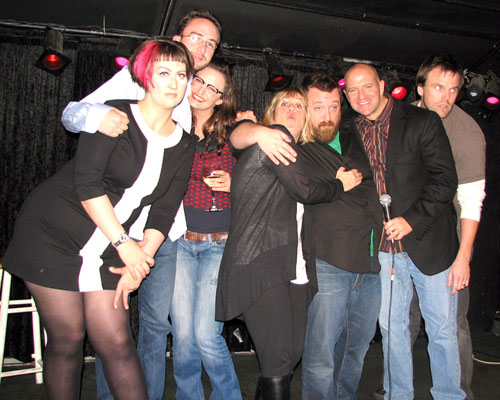 Virginia Jones (6th), Joe List (5th), Claire Brosseau (Tied for 3rd), Jan Barrett (host), Derek Sheen (Tied for 3rd), Auggie Smith (1st), Eddie Pence (2nd)
Top Five:
Auggie Smith (Portland, OR)
Eddie Pence (Los Angeles, CA)
Claire Brosseau (Toronto, ON) - tie
Derek Sheen (Seattle, WA) - tie
Big Irish Jay Hollingsworth (Seattle, WA)
Joe List (New York, NY)
Auggie Smith, who has played this room before, had no problem engaging this crowd with his energy, his strong personal vision and an ability to demand attention from even the most distracted audience. Eddie Pence, another comedian who brings a lot of energy to the stage and adds a lot of physicality, also proved his mastery. Derek Sheen engaged in "The World's Most Epic and Biggest Dick Joke Ever" and Claire Brosseau took the hood off the beak of her dirty, dirty bird...and both wound up tying for 3rd on the night
Big Irish Jay Hollingsworth made his first Top 5 of the week with a set that he told the audience would probably offend most of the women in attendance. Considering that two of the judges were women, Jay may have been wrong about that...as he placed 4th for the night.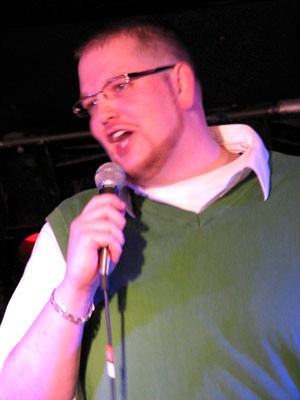 'Big Irish' Jay Hollingsworth
And Joe List, who went up first and dealt with a hissing steam pipe up in the ceiling of the club early in his set, impressed enough to earn his way to a 5th place finish.)
Another strong performer on this night was Virginia Jones, who was announced as having taken 5th place after the show--but a double check of the scores turned up a math error, and it turned out that Virginia had actually taken a very respectable 6th place. (But, I think even Jay would admit that Virginia looks better in the picture than he would have...
Probably the biggest surprise of the night may have been Dave McDonough, who had one of the strongest audience reactions of any performer on the night with his dark, deadpan one liners...and definitely proved that he had past The Fairhaven test and has the necessary skills...but didn't get the same love from tonight's judges.
So, that's five nights down for Preliminary Week One. One night to go. The Competition finally comes home, for the first time this year, for the last show for this excellent group of comedians with a show, Monday night, at the Comedy Underground, It is "Industry Night" and the judges are all people in the stand-up comedy industry...and other bookers and talent scouts will be in the crowd.
Even for those comedians who are unlikely to push into the Top 5 for the week--and earn their way into the Semi-Finals--will face the test of trying to please the crowd and the industry at the same time.