Edmonds Center for the Arts
We already know that the ten performers in the Semi-Finals of the 31st Annual Seattle International Comedy Competition are funny. They've each proved that, not only by making it onto the roster in the first place, from over 400 comedians from around the world who applied or auditioned to be in this year's event...and they've solidified their status as being funny by surviving their Preliminary Week against others who had been selected to participate this year. While they might not be the favorite of every person in every audience on every night, they're all funny.
What this competition tests, then, is how they react to having to different situations and how they TRY to be the favorite of every person in every audience on every night. On this night, those people were the good people of Edmonds, who were the audience at the beautiful Edmonds Center for the Arts theater on the second night of six in the semi-finals.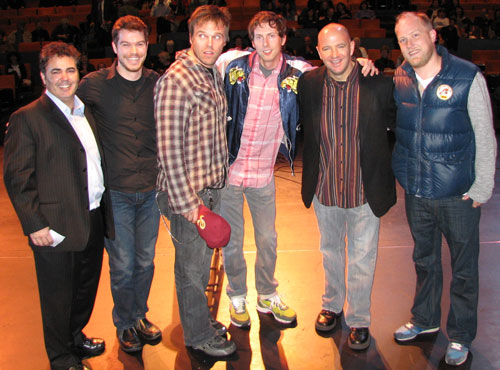 L-R: Vince Valenzuela (Host), Drew Barth (5th), Eddie Pence (4th), Dax Jordan (3rd), Auggie Smith (2nd), Billy Wayne Davis (1st)
A big stage in a theater is a very different animal than a club show (like Night One at the Comedy Underground.) You have to reach further to make a connection with an audience, you have to fill the room with your personality and what you find funny and, most of all, you seem to need to give people who come to see you perform in a theater the PERMISSION to really have a good time, where that is pretty much assumed when you perform in a comedy club. Luckily, this particular theater audience warmed up very quickly, thanks to the excellent hosting job done by Vince Valenzuela, and, luckily, this group of ten very talented semi-finalists just happen to be very funny.
And that usually works, no matter where the competition might take them.
Top Five:
Billy Wayne Davis (Seattle, WA)
Auggie Smith (Portland, OR)
Dax Jordan (Portland, OR)
Eddie Pence (Los Angeles, CA)
Drew Barth (Seattle, WA)
Not much change from Night One in the Top 5. Drew Barth again earned one of the loudest "encore point" cheers of the night and once again took 5th place. Dax Jordan, a controlled master of quirky material and perfectly evocative gestures, once again took 3rd Place. Billy Wayne Davis, once again, claimed the top spot with an undeniable set that generates laughs from making the audience comfortable with laughing at their own discomfort. Auggie Smith, meanwhile, saw his strength of personality fill up the large room and moved up to 2nd Place on this night, after having finished 4th on the previous night. New to the Top 5 was Los Angeles' Eddie Pence--not surprising, as Eddie is a physical performer and managed to use the full stage to great effect. Eddie finished the night in the 4th spot.
Narrowly missing the Top 5 tonight was Kortney Shane Williams, who also just missed out on the Top 5 on the previous night. Both nights, however, he's earned solid scores--and this is exactly what happened for Kortney in his Preliminary Week, where he just missed out on making the Top 5 on the first two nights of the week but consistently earned strong scores, putting him in good position to make a move later in the week.
There are still four nights left in this Semi-Finals Week. Three more big rooms--the Liberty Theater In Puyallup, the Skagit Valley Casino in Bow and the Lucky Eagle Casino in Rochester--and then the week ends off in the more intimate Hard Rock Cafe in Downtown Seattle. Each room presents its own challenge and every audience needs to be won over. Good thing for these performers that they're all very funny.
On to Puyallup for Semi-Finals Week Show Three on Thursday night!