CONGRATULATIONS TO THIS YEAR'S FINALISTS!!!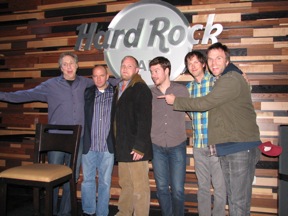 L-R Producer Ron Reid, Auggie Smith, Billy Wayne Davis, Drew Barth, Dax Jordan, Eddie Pence

The following five comedians survived one of the strongest Semi-Finals Weeks in memory...but their work is far from over. They now have to push themselves even further, to do five more shows with sets that are 15-20 minutes long...in order to determine this year's champion.

Top Five Finalists:
Drew Barth (Seattle, WA)
Billy Wayne Davis (Seattle, WA)
Dax Jordan (Portland)
Eddie Pence (Los Angeles, CA)
Auggie Smith (Portland, OR)