Comedy Underground - The Semi-Finals Begin
Five comedians emerged from the hard fought battle that was Preliminary Week One. Five other comedians survived their own adventures in Preliminary Week Two. Together for the first time, they joined up for one hell of a great show on a Tuesday night at the Comedy Underground in Seattle to kick off the Semi-Finals of the 31st Annual Seattle International Comedy Competition.
The addition of a few additional minutes of stage time--as Semi-Finals sets are ten minutes long, compared to the five minutes performers in the Preliminary Week get--would be just one of many challenges presented on this night. Another would be the first time these performers would be scored by five judges--which tends to temper the results from any one particular judge's opinion on what they've seen. Yet another would just be seeing how each performer's individual style would mesh with the other performers on this show--as this is the first time that these ten comedians would perform together in one show.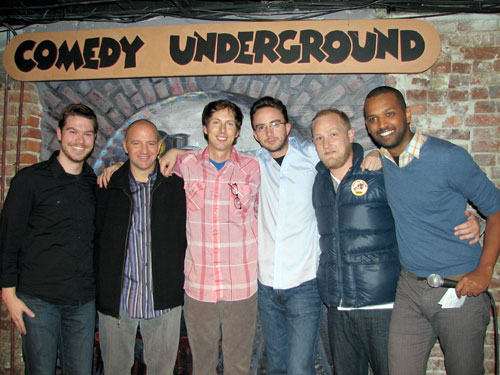 L-R: Drew Barth (5th), Auggie Smith (4th), Dax Jordan (3rd), Joe List (2nd), Billy Wayne Davis (1st) and Solomon Georgio (Host)
The end result was another great night of comedy...and something for nearly everyone...all handled adeptly by our host, former Seattle International Comedy Competition semi-finalist and San Francisco Comedy Competition Finalist (not to mention Stranger Gong Show Winner) Solomon Georgio. Encore points were earned by every performer and the close scores from the judges indicated just how good this group of Semi-Finalists are...
Top Five:
Billy Wayne Davis (Seattle, WA)
Joe List (New York, NY)
Dax Jordan (Portland, OR)
Auggie Smith (Portland, OR)
Drew Barth (Seattle, WA)
Kortney Shane Williams, Matt Davis and Eddie Pence all had strong sets that left them just on the outside of the night's top five. Local favorite Drew Barth earned 5th place tonight, while in the battle of Portland heavyweights, Dax Jordan out-pointed (by one point on one judge's score sheet) Auggie Smith. Joe List picked up where he left off from his successes in Preliminary Week One with a strong 2nd place finish.
Top honors of the night, however, went to Billy Wayne Davis...who, strangely, was not the top scorer on ANY of our judges' scoresheets tonight--but scored consistently high on all of them to rise above the pack and claim the first nightly win of this semi-finals week.
It is on to Edmonds now, for Night Two of the Semi-Finals on the big theater stage to be found at the Edmonds Center for the Arts.