Admiral Theatre
Something happened on the way to Auggie Smith claiming the championship of the Seattle International Comedy Competition (to go with the San Francisco Comedy Competition championship he earned earlier this year) on the second to last night of the event.
The something that happened? Bremerton.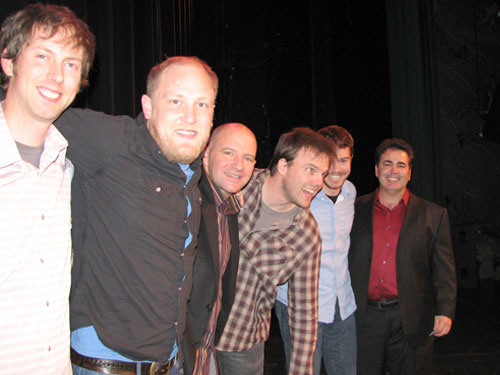 L-R: Dax Jordan (1st), Billy Wayne Davis (2nd), Auggie Smith (3rd), Eddie Pence (4th), Drew Barth (5th), Vince Valenzuela (Host)
I don't know what it is, but something about our shows at the Admiral Theater in Bremerton--a lovely venue that fills up with comedy-loving fans of the competition every year--but there results that we get from this show so often jumble up the narrative of that year's competition. This year is no different, as the judges took the expectations and shook them all up...
Auggie came firing right from the start of the show--earning multiple applause breaks in his set and setting the bar impossibly high for those who might follow him. Eddie Pence DID follow him and won the crowd over with his fearlessness and physicality. Billy Wayne Davis, so calm and in control on stage as he talks about a life that seems uncontrollable, delivered another solid performance. Drew Barth had another great set and the night closed with Dax Jordan having, possibly the best set he's had this entire competition.
Top Five:
Dax Jordan (Portland, OR)
Billy Wayne Davis (Seattle, WA)
Auggie Smith (Portland, OR)
Eddie Pence (Los Angeles, CA)
Drew Barth (Seattle, WA)
The judges rewarded Dax with a top finish for the night and installed Billy Wayne Davis in second place. Rather than getting crowned, Auggie Smith took a solid score and a third place finish...while the crowd seemed dismayed that he, Eddie and Drew weren't higher up in the nightly order. (Though, to their credit--they also really liked Billy Wayne and Dax...so, I can only assume the good people of Bremerton wanted a five-way tie for first place...which would have REALLY confused the weekly standings.)
What the scores from this penultimate show of this year's competition has made manifest is an impossibly close battle for this year's championship. A quarter of a single point is all that separates first place from THIRD place going into the last show at The Moore Theater in downtown Seattle on Sunday night. All of the shows, all of the scores, all of the traveling...it all boils down to one night, one show, one performance.
It's going to be a hell of a night, that's for sure!
Regardless of the results, these five finalists have represented themselves and this competition very well--consistently delivering excellent performances night after night. Any of them would be deserving of the honor of being this year's champion.
Maybe the Bremerton crowd had the right idea after all...