7th Street Theatre
People imagine stand-up comedy to be glamorous. It's show business, right? The truth is rarely what people imagine--lots of grubby little bars, makeshift stages and cobbled together events.
But sometimes...sometimes it IS exactly what people think... Sometimes, you are surprised by a small town near the Washington coast that has a beautifully restored "palace"-style theater--the kind they no longer make--with 900 seats, huge stage, five dressing rooms, a sunken lobby fountain, beautiful carpeting...and an interior design that makes the room look like a Spanish villa at daybreak.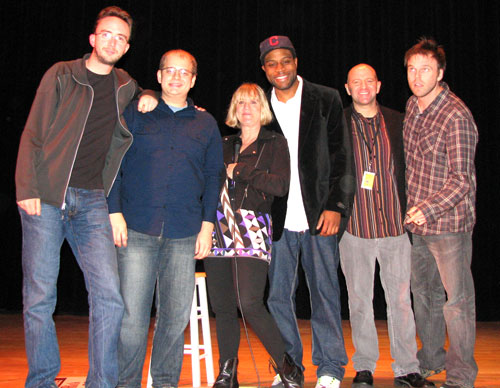 picture: L-R: Joe List (5th Place), Mike Drucker (4th Place), Jan Barrett (Host), Kortney Shane Williams (3rd Place), Auggie Smith (1st Place) Eddie Pence (2nd Place)
And by sometimes, I mean, last night at the 7th Street Theater in Hoquiam. That's where we spent Night Four of Preliminary Week One of the Seattle International Comedy Competition and everyone involved was, as the Brits say, well-chuffed for what was to come. What we didn't know was if the good people of Grays Harbor County would show up...as a 900 seat theater can be a difficult place to play if 875 of those seats are empty.
Luckily, we had a great crowd that was well-up for a great show--which our contestants gave them... It was another great night of comedy, regardless of the scores...every performer this week is doing well, doing their own kind of comedy...and it makes presenting these shows very pleasing...and it must make judging these shows very difficult.
One thing that this crowd did, that is different from some other nights, is that they took their role in determining the "tremendously obvious encore point" very seriously. They may have liked a performer, laughed at their jokes and appreciated their efforts...but when it came to the encore point, they wouldn't give it to someone they didn't think had earned it. That's definitely going to shake up the scores a bit.
The Top Five:
Auggie Smith
Eddie Pence
Kortney Shane Williams
Mike Drucker
Joe List
And yet, a lot of familiar faces made the Top 5 for the night. Portland's Auggie Smith, who missed the previous night's Top 5, came roaring back to take top honors tonight. Mike Drucker also pushed his way back into a Top 5 for the first time since Night One. Joining them were Joe List, Eddie Pence and Kortney Shane Williams who all seem to be taking permanent residence on the podium.
Special attention should be given to Travis Vogt, who took 6th place on the night...just missing the Top 5. Sean Ottey and Big Irish Jay Hollingsworth also got a lot of love from the judges on this night.
The competition now heads north, to Bellingham, for the first of our annual pilgrimages to The Fairhaven Martini Bar for the fifth night out of six for this group of performers. This is a very important night for anyone hoping to make their move to end the week in the Top 5 (which sends you on to the Semi-Finals) or for those IN the Top 5 to keep up their strong performances and hold on.
Because some will move on, others won't...and that's show business.