Vintz Fluke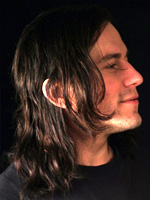 Manchester, UK
Nursed on the frigid Canadian comedy nipple, viNtz fLuKe's career first heated up with an appearance at the Toronto Comedy Festival at age 19 as runner-up in the 'Search For Canada's Funniest New Comic' competition.
He later landed into Hollywood development deals after he spontaneously "accepted" the Slamdance International Film Festival award for Best Short Film when the announced film-maker failed to attend ceremony.
viNtz has gone onto crash festival stages around the world, including 'Best of the Fest' at Just for Laughs and also Edinburgh Comedy Festival's 'Late n Live', 'BBC Showcase', Paul Provenza's 'Talk of the Fest', and a walk on role in Rich Hall's play "Best Western".
He's appeared on MTV and VH1, also been in an Oasis video he's never seen and played Rolling Stone's drummer Charlie Watt in "the Linda McCartney Story"... there's also some independent films and other stuff he can't remember. He once got a kiss on the cheek from Angelina Jolie.... but it all means nothing until viNtz can finally appease the Gods of comedy at this Battle in Seattle before he returns to Britain where he now makes his home.