Dax Jordan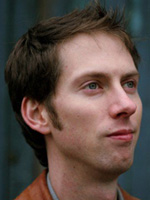 Portland, OR
The only child of an original L.A. Valley Girl and a Midwestern jazz drummer, Dax has cornered that unique Beatnik/Mallrat/Trekkie demographic.
Raised on the fruits of the 80's standup explosion, his early exposure to everything from Stan Freberg to George Carlin have ingrained in him a wide variety of styles and perspectives. An ability to tailor the act to crowds from Catholic High School grad parties to lumberjack bars in rural Idaho to hipsters in downtown Chicago has allowed him to take advantage of every opportunity to come his way, including writing jokes for Senator Ron Wyden (D-Or).
He can be heard on XM/Sirius satellite radio and The Bob & Tom Show. He has also appeared in several films and television programs seen internationally.
"Not just great…Brilliant."
-Eddie Brill, 'Late Show' Booker
Web site:
daxjordan.com