Laughs has been having a wine-tasting event before the shows on Thursday, so some of the audience has been there "tasting" since 7 PM. Last week several of them fell asleep during the show, a commentary on the quality of the wine rather than the comedy, we believe.
This week they hung in all night (the show started at 8:30, which means it ran until pret' dang near 11. I think it helped that host Josh Wolf ("My Name is Earl," "Chelsea Lately") is a high-energy guy himself.
Here's the upshot: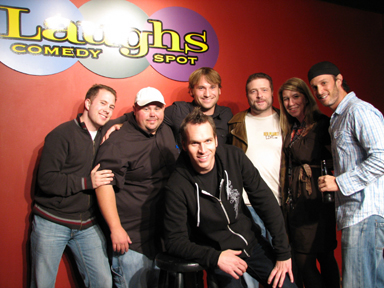 Night Three Top 5 (Laughs): Jon (aka Joe) Lincoln (4th), Todd Johnson (3rd), Seth Perry (1st), Andy Wood (5th), Tommy Savitt (2nd), Laughs owner Angele Dennison, Josh Wolf (host).