This was our third stop in three weeks at Laughs and the crowd was split about 50/50 of people who had come to see the preliminary week shows we had there and people who were seeing these competitors for the first time. Rod Long was our host and got the crowd--many of whom were, once again, lingering in the audience after the pre-show wine tasting event--going good and strong. While those who had started their evening at 6pm were losing some of their attention and enthusiasm as the show went on, tonight's winner, Tommy Savitt, was able to wake them up with another solid set.
This makes three wins in a row for Tommy in this semi-final week.
Some of the competitors who struggled in the first two theater shows seemed to feel more at home in a comedy club environment. They'd best figure out their big room strategy because the next two shows will be in front of some of the biggest crowds in the biggest rooms of the entire competition.
Ryan Belleville, of MTV's "Busted", did the stall set...and would have earned himself an encore point for his efforts.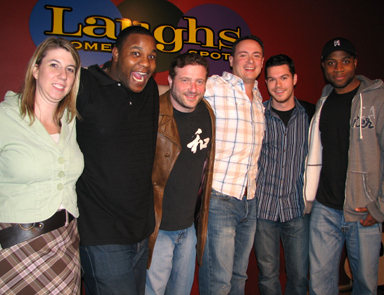 L-R: Angela (Laughs co-owner), Nate Jackson (2nd), Tommy Savitt (1st), Lars Callieou (3rd), Drew Barth (5th), Kortney Shane Williams (4th).