(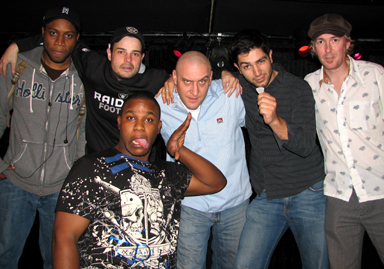 (L-R Kortney Shane Williams, Tyler Hawkins, Nate Jackson, Morgan Preston, Justin Rupple, Damonde Tschritter)

One of the best shows we've ever had at the Fairhaven. Completely sold out, sound and lights were perfect.
Great audience that hung in there all the way to the end, including the "stall set" by host Damonde Tschritter whilst we tabulated the scores.
Maybe it was the presence of the Bellingham PD on the judging panel.
Speaking of which
1) Morgan Preston
2) Nate Jackson
3) Kortney Shane Williams
4) Tyler Hawkins
5) Justin Rupple
There have been a rash of people getting overtime penalties this week (3 last night), record for the week was 5 on Friday. We don't remember this ever happening before.
We will be back next Sunday Nov 16 with 16 more comics. . .and will announce the semi-finalists!
Fairhaven Martini Pub
1114 Harris Ave
Bellingham, WA 98225
(360) 671-6745
SHOW DETAILS