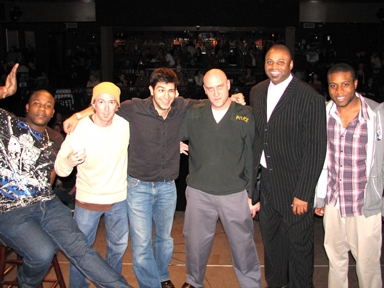 (L-R Nate Jackson, Damonde Tschritter, Justin Rupple, Morgan Preston, Murv Seymour, Kortney Shane Williams)
The Knitting Factory is awesome!
Two levels, dressing rooms, a great staff and best of all, a packed audience ready to laugh.
The top five for the night are:
1) Justin Rupple
2) Nate Jackson - tie
2) Kortney Shane Williams - tie
3) Murv Seymour
4) Morgan Preston
5) Tyler Hawkins
Nate Jackson would have had first place, but he had a time penalty, so he tied for second. Ironically enough, Justin Rupple also had a time penalty and still won the night.