Semi-Finals Night 6: Our first time ever at Marson's at Club Casino. Nice room, the casino's restaurant which is transformed on Friday and Saturday nights into a comedy club. This was their first time doing a Sunday show, and it worked out extremely well for all concerned. Good food, good atmosphere, great hospitality once again - our thanks to owner Tony Marson and comedy manager Tobie Seth.
Great show as well - although the producers want to know why the loud talkers always sit in the front? A rhetorical question. . .
Anyway, a couple of people had to really bring it, and so it was brung. Lars Cailliou, up last, finished first for the night, and Nate Jackson finished third, thereby knocking the smooth and steady Murv Seymour down to 6th overall by 39/100ths of a point.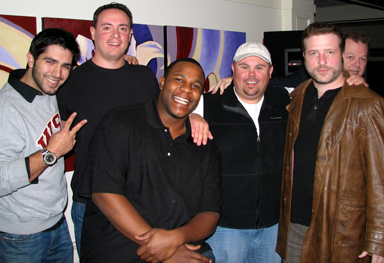 The Finalists in the 2008 Seattle International StandUp Comedy Competition are, in no particular order:
Lars Cailliou, Edmonton AB Canada; Tommy Savitt, Los Angeles CA; Justin Rupple, Issaquah WA; Nate Johnson, Lacey Wa; and Todd Johnson, Boise ID.
Finals start Tues November 25 at the Washington Athletic Club, and continue through the week, ending Sunday November 30 at The Comedy Underground in Seattle.
We will finish updating this blog later, details about the performers and the upcoming shows are here on the site.