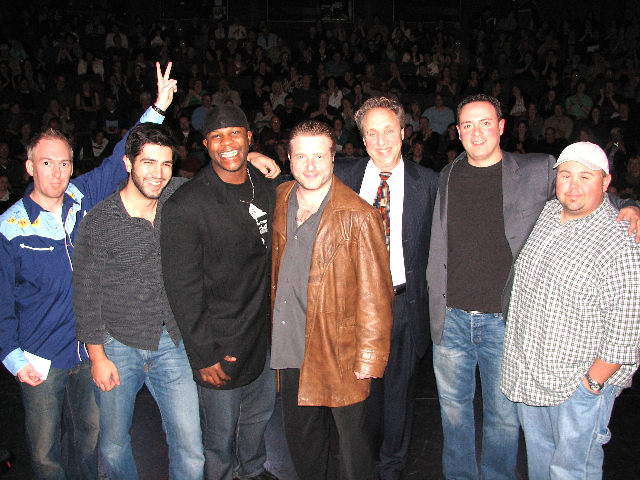 Picture one: L-R: Damonde Tschritter (host), Justin Rupple (5th), Nate Jackson (4th), Tommy Savitt (1st), Ron Reid (producer), Lars Callieou (3rd), Todd Johnson (2nd)
Young Justin Rupple went slightly under the time requirement for this show which earned him a penalty point and pushed him down into 5th place. Since the audience doesn't always get an explanation of every scoring detail, the announcement of order of finish prompted a few boos.
But as it turned out, it was a Savitt kind of crowd anyway.
We have been doing shows at this 402-seat gem of a theater since it opened in 1998. For the last several years, we have partnered with KPC for 3 shows per season; this Comedy Competition final the Friday of Thanksgiving weekend; New Year's Eve; and Valentine's Day. It could not be a better, more hospitable environment for standup comedy. The audiences are smart, playful, and relatively sober (although alcohol is definitely available). The staff is professional, and our history here makes everything effortless. This year's events are tinged with a little sadness, however, as Executive Director Steve Lerian has moved on to the position as Director of Cal Poly Arts in San Luis Obispo, California, and longtime Production Manager Stephanie Hippen is leaving next week for her new post at Seattle's Benaroya Hall. We wish them well in their new ventures, and while we treasure our relationship with the theater, it just won't be the same.