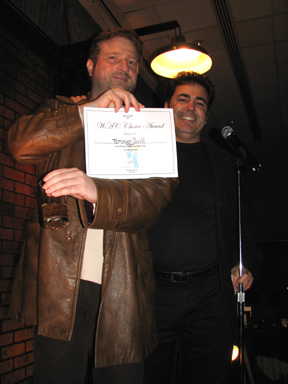 Tommy Savitt with Guest Host Vince Valenzuela
Nothing wac about it - it's the second year we have had our Finals opening night at the posh Washington Athletic Club in downtown Seattle. They created this cool stage set for us - an outdoor scene of a brick wall (of course) complete with hanging street lamps. Nice. Tom Waits would have felt right at home on the stage, if not at the venue. The entertainment staff also decided to award a
"WAC Favorite" certificate by ballot of the audience. And unlike last year, when the judges picked Key Lewis and the crowd went with eventual champ Marcus, it was unanimous: Tommy "Hey Tommy" Savitt in a sweep. 2nd went to Todd Johnson, 3rd to Lars Cailliou, 4th to Justin Rupple and 5th to Nate Jackson.