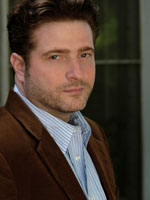 Winner of the 2007 Boston comedy Festival,a regular on the Bob & Tom Show,heard daily on Sirius radio and, the star of dozens of national commercials,comedian Tommy Savitt has made his biggest mark spending the past decade performing stand-up for the United States military and its allies.
Tommy's journey to bring laughter to those that sacrifice for our country has taken him to Air Force, Army and Naval bases in Afghanistan, Guantanamo Bay, Japan, South Korea, Bahrain, the United Kingdom, Germany, Belgium, the Netherlands,Curacao,Honduras,and Ecuador. Tommy has done it
all - even performing at the United States Embassy in Belarus.
Tommy has also gone international in other ways,making his mark on the Canadian comedy circuit,headlining Saskatoon's Great Plains Comedy Festival and Calgary's FunnyFest. What David Hasselhoff is to Germany, Tommy Savitt is to Canada but, better looking. Tommy has also appeared on Si TV's "Funny is Funny," Comcasts "Boston Comedy Festival", National Lampoon and commercials including Adidas, Monster.com and Lowe's. As an actor, Tommy starred as Horatio in Love's Labours Lost at the Expanded Arts Theatre in New York City.