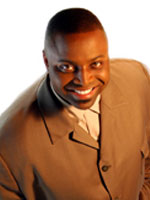 Tampa, Florida
Murv Seymour has appeared on NBC, ABC, CBS, BET and the Disney Channel. He's also been heard on the Bob & Tom Radio Show. Murv has performed at several national comedy festivals, including, the 33rd Annual San Francisco Comedy Competition, where he was semi-finalist. He has also performed at the Boston Comedy Festival and the inaugural North American Comedy Festival, which paid tribute to Johnny Carson.
In 2008, the Scorpio released a one of a kind instructional DVD, Road to Standup, which teaches aspiring comics how to start their comedy career. In September, 2006, Murv released his first live CD, Murv Seymour Live in Concert.

A former television news reporter, Murv Seymour has a unique inside take on the news business, one only he can provide. Murv is original, topical and explosively funny. The 6'6 giant uses his smooth delivery, stage presence and witty writing to command audiences to tune in. The award winning newsman is working towards hosting his own talk show or another platform to maximize his passion for television and comedy.

Murv performs at theaters and top clubs like the Improv, the Punchline, the Funny Bone and many other unheard of caves, tents and igloo's in small town North America.