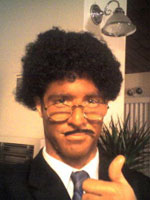 Los Angeles, California
Brady Matthews has come along way since winning Uncle Clyde's Comedy Competition at The Ice House in Pasadena, California. While waiting for Saturday Night Live to call, he keeps himself busy by doing standup across the country and creating short sketches. You may have seen him as "Hot Guy #1" in Always Sunny in Philadelphia, or as "Guy #2" in How I met Your Mother. He is the new face of an Army commercial where he plays "Soldier # 1". So if you see a random guy on TV without a speaking role, that's probably him. He is now talking with major networks to explore more TV appearances for characters that will test his true talents, such as "Guy #1 holding something".
Visit him at www.bradymatthews.com or rooftopcomedy.com.