I shouldn't have been surprised.  A drive from Seattle to Olympia during rush hour traffic and through the rain is never going to be easy…and it never has been during the years that we've brought the Seattle International Comedy Competition to our state's capitol.
…and, yes, I know, it would simply be a matter of getting on the road earlier in the day to avoid the traffic nightmare…but despite that, there we were again…standing still on I-5, looking through the windshield wipers as they slap away the pouring rain, having barely escaped the city that tried to hold us back, and trying hard to find evidence of the highway accident that we had to presume had caused this back-up, while our GPS unit cruelly mocked us by showing us an insanely optimistic "time of arrival" to get to the Washington Center for the Performing Arts in Olympia Night Two of Preliminary Week of the 34th Annual Seattle International Comedy Competition.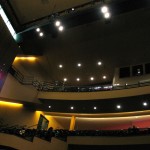 We always make it in time…and we always have a great time, which makes any driving stress worth it.  The Washington Center for the Performing Arts (currently undergoing some serious exterior renovations that I'm sure will make the outside as beautiful as the inside) is a very different setting for our sixteen brave Preliminary Week One competitors than they had for the first night.  While the Columbia City Theater was sold out at 120 patrons, the WCPA seats around 900…and for our show, we had patrons on the expansive main level, the first balcony and the second balcony (not sure about whether there were comedy fans on the third balcony or not–my eyesight isn't what it used to be.)
Not only did our performers have to consider adjusting their material and performance based on the results from the first night but now they had to keep in mind that they'd be playing a much bigger room on a much wider stage for an audience has a different frame of reference simply by not being from the city of Seattle.
These fine Olympia folks were in good hands with local-boy-done-good Gabriel Rutledge handling the duties as host and MC.  The audience welcomed every performer warmly, but they did clearly indicate who their favorites were (and they turned out to be a little more decisive on that front than even our panel of four judges who would be responsible for tonight's official scores.)  The three performers that the audience seemed to enjoy the most on this night were Trenton Davis from Chicago, Seattle's Parker Postyeni…but the loudest cheers of the night went to Steve Hofstetter, representing Queens, NY.
The nightly top 5 has many familiar faces in it, as four of the top five from this show were also in the top "6″ from night one.  In fact, the top two places remained exactly the same from the night one's show.  And, like encountering difficult driving conditions on the way to Olympia, I shouldn't have been surprised to see these performers do well yet again.
Here are the official results from this show:
SICC-34: Preliminary Week One-Night Two Top 5
1-Steve Hofstetter (Queens, NY)
2- Sam Demaris (Houston, TX)
3- Parker Postyeni (Seattle, WA)
4- Trenton Davis (Chicago, IL)
5- Rodger Lizaola (Seattle, WA) 
As you can see, Rodger Lizaola cracked the top 5 on this night…he managed to push past both Kortney Shane Williams and Laura Hayden (both of whom had made the top 5 on Night One and both had good scores again on this night) to do so.
Also "right there" and knocking on the door of a podium finish are David Conolly and Garrett Clark.  While some of our performers struggled with the adjustments to translating their act for this room and this crowd, I should also give some attention to a couple of performers who definitely improved their fortunes from Night One and got great crowd reactions during their sets on Night Two…Art Krug and Meghan Flaherty.
It is still early in this competition.  Four more nights to get good scores.  Four more chances to try to dislodge Steve and Sam from the top of the list.  Four more chances to end the week in one of the five places that will carry them into the Semi-Finals.
Friday night takes us to the Auburn Ave Theater in Auburn.  My advice is to leave even earlier than you think you should to get there to see these excellent performers and this exciting show!