Another sell-out crowd at Laughs Comedy Spot in Kirkland was on hand to witness the beginning of Week Two of the 34th Annual Seattle International Comedy Competition.  16 new comedians began their competition adventure – in front of the same entertainment industry folks who had judged the last night of Preliminary Week One.
Only one of them (Seattle's Xung Lam) had ever participated in this competition before, so they didn't have any direct experience with how things would go or what their fellow competitors would be doing…and they not only had to please the Kirkland faithful but also some industry gate keepers.
Everyone did quite well…but some did better than others.
Anne Edmonds from Melbourne Australia was first up…and she charmed both the audience and the judges to grab an 8th place finish for the night.  Both Xung Lam and Michael Davis generate their comedy with smartly written and very efficient jokes and ended up tied for 6th place on the night.
Making the top 5 on this first night was a nice bonus for local comedian Kelsey Cook, who turned down a return visit to the local tv comedy "The 206″ to compete this week. In that top 5 was also where the impressively named Zoltan Kaszas found himself.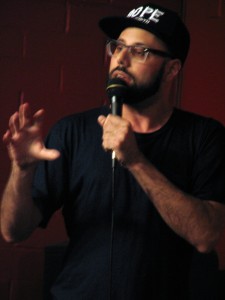 The big story for the night –  the dominance of the three performers who are here from Toronto.  They are very different but each is extremely funny…as the fine folks of both Kirkland and the comedy industry got to witness first hand.  All 3 grabbed a podium finish on their first night, with Dave Merheje taking top honors.
SICC-34: Preliminary Week Two-Night One Top 5
1- Dave Merheje (Toronto, ON)
2- Zoltan Kaszas (San Marcos, CA)
3- Kelsey Cook (Seattle, WA)
4- Graham Kay (Toronto, ON)
5- Julia Hladkowicz (Toronto, ON)
Thanks to Dave and Angela Dennison, the owner/managers of Laughs Comedy Spot for the full house and hospitality.
Now, it's off to Bellingham for Night Two. We'll be checking out a brand new venue for the competition:  Poppes 360.  What had been just another hotel bar has been transformed into a hip neighborhood pub that's been home to a regular series of comedy shows.
Will the Toronto-ians continue their winning ways?  Will performers who didn't find industry favor on Night One find some love in Bellingham on Night Two?
That's why the play the games, as they say…because you just don't know, until you know.
NOTE:  There may be a delay in posting the recap from tonight's Bellingham show until the next morning because of the travel distance.