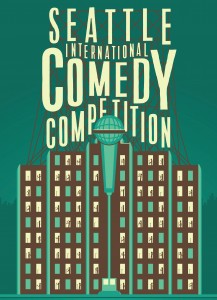 The 34th Annual Seattle International Comedy Competition is now officially underway with Wednesday night's show at the beautiful Columbia City Theater, here in Seattle.  An enthusiastic audience greeted our sixteen performers (and our host, previous SICC champion Gabriel Rutledge) as they took to the stage for the first night of Preliminary Week One of this year's competition.
For many of the performers, this would be the first time that they'd have seen their fellow competitors.  The word from both this year's roster and this night's audience is that we've got a barn-burner of a year ahead of us, with a strong roster of talented comedians.
So strong, in fact, that our "Nightly Top 5″ simply wasn't enough…and we had to expand to a "Nightly Top 6″ due to a tie for 5th place.  Those who had tied for 5th place were a pair of locals–Kortney Shane Williams, who is a veteran of two previous Seattle International Comedy Competitions, and Parker Postyeni, who just made his SICC debut–both of them represented Seattle very well–as Parker seemed to have the biggest crowd reaction of the night and Kortney managed to beat back the infamous "Go First Curse" (where performers who are scheduled to go up first on a night have found it nearly impossible to crack the Nightly Top 5 from that spot) right out of the gate.
No other ties in the rest of the top 5 (though, showing how close this night was, there WAS another tie for 7th place)…and no other locals, either–the rest of the top 5 seemed to hit the major points of the compass, with performers from New York to the east, California to the west, Texas to the south and Illinois to the north all representing their regions quite well on this first night.
Let's go ahead and share with you the Official Top 5 (…or 6)!
SICC-34: Preliminary Week One-Night One Top 5+1
1- Steve Hofstetter (Queens, NY)
2- Sam Demaris (Houston, TX) 
3- Trenton Davis (Chicago, IL)
4- Laura Hayden (Hermosa Beach, CA)
5 (tie)- Parker Postyeni (Seattle, WA)
5 (tie)- Kortney Shane Williams (Seattle, WA)
So, Steve Hofstetter takes the top honors on this first night of competition in 2013.  He'll need to keep getting good scores if he can hold off the fifteen other talented performers in his week who are all trying to grab one of only five spots in the semi-finals that will go to people in this week.
We head south to our state capitol city, Olympia, for Night Two of Preliminary Week One for a Thursday night show at the Washington Center for the Performing Arts, a beautiful but, perhaps, intimidating venue that will offer a chance for our performers to show what they can do on a large stage in front of a large audience.
If tonight is any indication, I think they'll do just fine…because we're off to a great start!