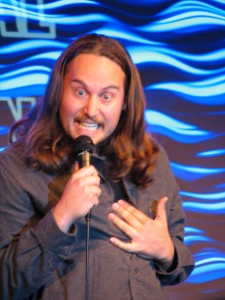 This is the second (in a series of five) interviews with one of the finalists in the 34th Annual Seattle International Comedy Competition–and it's a chance to get to know one of the talented performers who managed to be selected for this competition, to have agreed to participate, to have made all the arrangements to come to the Pacific Northwest for what could only be a week or what could be nearly a month of high-stress performance situations, to have survived not only the Preliminary Week by ending in the top five out of sixteen comedians but also through the Semi-Finals Week by ending in the top five out of the best ten comedians in the competition, and is now ready to perform on five more shows in the Finals Week with a chance of becoming this year's champion.
Certainly seems like someone that we'd want to get to know!  So, here's an interview with another of this year's finalists.
Representing San Marcos, California…Zoltan Kaszas!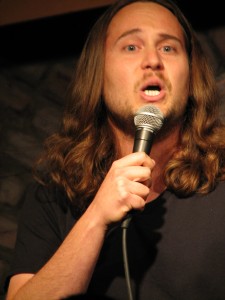 So, how does it feel to have made it into the finals of the 34th Annual Seattle International Comedy Competition, Zoltan?  (And congratulations on doing so, by the way…)
ZK:  Thank you!  It feels great!  Before I flew out to Seattle, I thought I could make the finals until I actually got here and saw all the talented comics in the preliminary round.  I was lucky to move on to the semi-final round and now that I'm in the finals, it's a little hard to believe.  But, the lack of sleep and feeling a little home sick has kept me from bouncing off the walls.
With all that's gone on since this year's competition's begun, is there a favorite moment that stands out to you?
ZK:  At a show in the preliminary week, backstage, one of the guys took of their shirt to change and then another comic did it as well, to be funny…but then, Mo Alexander one upped everybody by taking his shirt off and exposing his giant nipple ring in the process… It was huge; it looked like a janitors key ring!  Absolutely hilarious.
This competition can be challenging for anyone.  What stands out in your mind as the most challenging thing, so far?
ZK:  Trying to stand out in a group of extremely talented performers. Especially in week one, when we only had 5 minutes to do so.  I didn't start feeling comfortable on stage until the second week, where we got 10 minutes to show off our funnies.
How did you get your start in comedy, Zoltan? What lured you into this crazy world?
ZK:  I didn't want to be a comedian.  Growing up, I loved comedy and made my friends and family laugh, but my childhood dream was to be a pro wrestler.  I grew up in a trailer park, where dreams like that aren't so wacky.  Although, at 19, I found out wasn't very athletic and that I had never been accused of being in great shape…so, I headed for dream #2… which was comedy.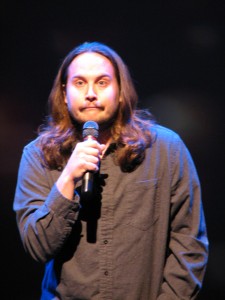 So, no real comedy heroes growing up?
ZK:  Growing up, I loved Chris Farley.  His physical style and comedic charm entertain me to this day.  Farley's face could make you feel a range of emotions; he was a truly talented funny man.
And now?
ZK:  I look up to the usual list of comedians like Louie CK, Bill Burr, Patrice O'Neal…but my favorite comedian growing up was Sinbad.  His HBO special "Afros and Bell-Bottoms" played at my house quite a bit.
You come from San Marcos, California, which is near San Diego, I believe. What is the San Diego comedy scene like?
ZK:  The San Diego comedy scene has grown a lot from the time I started. In 2006, we pretty much had one comedy club and a couple independently run shows.  Now, we have four full-time clubs and a lot of great independent shows.  Also, the number and quality of local comedians have risen along with the amount of stage time. I think San Diego is a great place to get good at stand-up.
So…comedy is dream #2 for you, Zoltan.  What happens if and when that dreams come true?  What would you want to be doing?
ZK:  There would probably be a sitcom titled "The Zoltan Show" or something catchy like that and it will run for many many seasons.  Also, there will be a statue of me somewhere holding a microphone and being flanked by attentive orphans…  If everything goes to plan.
What's your take on the other comics who are joining you in this year's finals?
ZK:  They're a great unique group of comics and, on top of that, really nice, friendly, people.
The finals start on Tuesday night and run through Sunday of this week.  What can audiences expect from you on those shows?
ZK:  I hope the see some good energy, decent jokes and my kind eyes.
And, after Sunday, what's next for Zoltan?
ZK:  Shortly after the contest, I will be in Sioux City,Iowa–telling jokes and eating pizza!
So, it's Sunday December 1st at the Comedy Underground, Seattle…and you are announced as the winner of the 34th Annual Seattle International Comedy Competition…what will that mean to you?  And what will you do with the prize money?
ZK:  It would mean a lot!  There were so many talented comics this year, and over the 30 plus years of the contest, it would be a real honor to have my name on the list.  As far as the money thing goes, I would first have to pay off my mom for swiping her credit card like crazy over the last three weeks…and, whatever is left, I will throw in a low interest IRA and see what happens…
Click here for Zoltan Kaszas' official SICC-34 Biography.