This is the fourth of five interviews with the comedians who made the Finals of the 34th Annual Seattle International Comedy Competition.  This competition began on November 4th with the 32 comedians selected from those who applied or auditioned (comedians from around the world as well as right here in our own backyard) and it will end on December 1st with the crowning of a new champion from the five performers who have survived in this competition all the way to participate in this Finals Week.
Our subject for this fourth interview is the only performer in the finals who has previously competed in this event.  I believe this is his fourth time as a participant–the most recent time, in 2009, when he made the finals.  He has now returned–not only to the competition itself and to the finals…but also to his previous comedy stomping grounds, as this performer is the only performer left in this year's competition who is repping the 206.
Let's get to know him a bit better now, shall we?
Representing Seattle, Washington…Rodger Lizaola!

Congratulations on making it back into the finals of the Seattle International Comedy Competition, Rodger!
RL:  Why, thank you, Peter Greyy!
You'd made the finals of this competition back in 2009.  Is it different this time?
RL:  To be honest, it is a lot more gratifying .  In 2009, the first round was, by the fourth night, a lock.  Even in the semi-finals that year, although not at all a cake walk, I knew that on the last night, all I had to do was, pretty much, do what I did all week and I should be fine.  This year, 2013? Jesus Christ!  First round, I started the week in 11th the first night and the last night I was hanging on, by a thread, to 5th.  Made the semis and was not at all in sync the first 3 nights.  I was sitting in 8th on the fourth night, although only a half a point from fifth.  There were a lot of things that had to go my way…and, also, I had about 2 hours to "connect the dots" and knock it out of the park that night…and then, again, the next night!  I knew I could do it, but damn, when I heard my name called as having come in 4th place for the week?  Holy shit, I can't explain how good that felt!
What's been your favorite moment of this year's competition, for you, so far?
RL:  I think my favorite moment was having my back against the wall the last 2 nights of the semi-finals. Game 6 and Game 7, win or go home.  And I'm still here!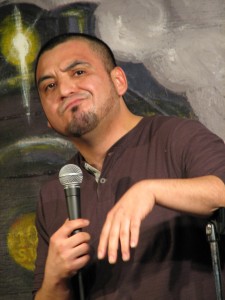 And the biggest challenge for you this year?
RL:  Getting out of the first 2 rounds!  Holy shit!!!  Back against the wall for 11 shows!   I made it…so I'm here to win!
You started comedy in Seattle, yes? 
RL:  Yes, I did start here in Seattle at the Comedy Underground in 2003.

What was the Seattle comedy scene like when you started? 
RL:  Well, I'll give you the short version.  When I started, I was in my early 20s and I can't really explain how much fun it was just to be around the club in those days.  My "class," for the most part, was around my age.  Jake Dill , Matty Ralston, Geoff and Geoff , Blaine, Doug, Rosalie and so on and so forth…and countless people going in and out of open mic.  It was…I don't wanna say it like this…but before it got serious and you were just trying to get funny and be the best at open mic so Carl would ask you to do the Tuesday or Wednesday shows.  And, maybe, give your name to Ronnie…to host on the weekend. And that, man, you thought you made it!  "I get to work for free on the weekend?!??!? Yessssssss!!!!"
What made you start doing stand-up?
RL:  I always wanted to do stand up and I got a job at FX McRory's down the street, so I wandered down and that was pretty much home for the next 5 or 6 years.
So you were definitely influenced strongly by the local scene–they became your comedy heroes?
RL:  Of the heroes part.  They used to do a different line up for every night for the anniversary of the Comedy Underground and it was so fun to watch that…every show.
You're living in the Bay Area of California now. What's the comedy scene like there?
RL:  Living in the Bay Area is a lot like Seattle, except with less stage time for a champ like me…but probably the same amount unicorn comics.
What's the Rodger Lizaola dream?  What's going on if everything goes the way you want it to in your career?
RL:  My fantasy in comedy and is to be so successful in show business that ultimately I can sell out venues and just do stand up foreverrrrrrrrrrrrrr!
Any predictions for your fellow finalists in this competition, Rodger?
RL:  Pain!!!!!!!!!
Oh, I loves me a Clubber Lang reference!  So…you've got these five shows in the finals…what should people who may have never seen you perform before expect to see from you?
RL:  I'm going hard in the paint.  I'm so focused on winning this for all the Seattle comics that made the finals but couldn't bring it home.  I wanna do it for me, but a part of me wants to do it for the comedy scene here in Seattle.  Expect the best sets of my life.  I scratched and clawed to get out of the first 2 rounds and I'm playing with borrowed money right now!
Any big plans coming up for you after the competition ends?
RL:  Not really . Watch some football and enjoy comedy in Seattle for a month
So…let's say you win the 34th Annual Seattle International Comedy Competition.  What will that mean to you?
RL:  To piggy back on the previous question, it would mean a lot to me.  In the grand scheme of things, winning a competition does not matter as much as how many twitter followers or how many YouTube views you have.  But, a Seattle guy hasn't won since Gabriel Rutledge so, I'm so focused on bringing the title home.  And, when I started at the Comedy Underground, they had the big pictures of the winners of the comedy competitions on the wall.  I told myself that I wanted MY picture on that wall.  And now, I have another chance to do that…and I want to make that happen.
To close this out, I'm asking everybody…if you win, what will you do with the prize money?
RL:  Buy a couple suits and some Converse.
Click here for Rodger Lizaola's official SICC-34 Biography.