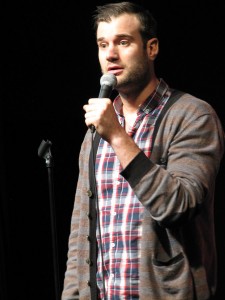 This is the fifth and final interview with the finalists for the 34th Annual Seattle International Comedy Competition.
Five performers survived the talent selection process, they made it through their Preliminary Week and advanced to the finals by making the top 5 in the Semi-Finals Week. It's a pretty major accomplishment in itself just to make it this far, but none of these five performers is satisfied with "just making it this far."  They want to be the one to claim the title of Seattle International Comedy Competition champion all for themselves.
We thought you'd want to know these talented individuals a bit better.  That's why we conducted this series of interviews with them.  You've already had the chance to meet and get to know Trenton Davis, Zoltan Kaszas, Rodger Lizaola and Dave Merheje.  It's now time to meet the final remaining finalist for this year's competition.
Representing Toronto, Ontario Canada…Graham Kay!

Better late the never here, Graham…  Let's start with this…  Congratulations on making it into the finals of the 34th Annual Seattle International Comedy Competition!  You took top honors in the Semi-Finals and now you're competing in the finals with a chance to take home the top prize. How does it feel?
GK:  After 3 weeks of competition, I can honestly say it feels exhausting….I mean exhilarating.  Honestly, its been a real fun learning experience and I think I'm a better comic for it.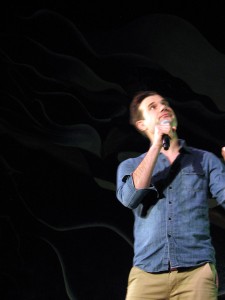 What's been your favorite moment of the competition so far?
GK:  Making it to the finals was pretty boss. It felt great to be there with some buddies, old and new.
And what's been the biggest challenge for you…as far as you participating in this competition?
GK:  I've done the road for long periods of time before, I haven't had to sleep on a couch…much less one that is 3 inches shorter than my powerful 6'4 frame…for this many consecutive days.
Let's talk about how your comedy adventure began, Graham.  What was your first ever performance like?
GK:  My first ever show was in Ottawa, and Jon Dore was hosting.
Oh, I'm a big fan of Jon Dore.  How'd your set go?
GK:  I forgot all of my terrible jokes as soon as the first two bombed and I left the stage after probably 2 minutes.  I held my head in my arms for several minutes in a green room consoling myself in the fact that nobody I knew was in the audience.  When I left the green room, I saw that my new girlfriend, my first love, had somehow found out that I was doing a set and went to the show without my knowledge.
Ouch!
GK:  She later cheated on me.
Oh, man…  Well, changing subjects quickly then…how about comedy heroes?  Were there stand-up comics that inspired you…that you liked and admired?
GK:  I really, really like Dave Chappelle and Norm Macdonald. People say never meet your heroes, but I met Chappelle once and he was the nicest coolest guy ever.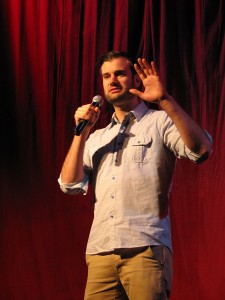 You started in Ottawa.  You're based out of Toronto now…and you do most of your comedy in the East.  How is it different there, comedy-wise, than you've found so far in the Pacific Northwest?
GK:  Doing comedy in the Pacific Northwest is different than the East because it is less diverse and more racially segregated here.  If you are well educated and don't have any black friends, I think that breads a lot of white guilt . People are very very nice here but there is a lack of freedom of speech caused by this white guilt.  Hearing a white male using the word "lesbian" even if it's in a good context has a Pavlovian effect on audiences here. People whisper "Black Guy" here like its a bad word. It's as if I'm performing at a University Campus in 1993.  I think that's one of the reasons that so many good comedians come out of NYC because you can say more in front of a NYC audience.  There is more room to explore.  More freedom of speech.  But, I think most of my jokes are universal enough, I mean I talk a lot about meaningless BS so I have fun anyways.
So…let's say that all of Graham Kay's comedy dreams have come true–what is Graham Kay doing? Describe your ultimate comedy career dream for me.
GK:  Being on TV in a comedic context.  Enough to make me a draw for my stand up.  Think of the BJ Novak/ Aziz Ansari model.
You've made the finals of this year's comedy competition.  Four other performers are in the finals with you.  What's your take on your fellow finalists?
GK:  I truly respect each and every one of them.  I really mean that.  I'm going to be seeing a lot of them in the future, I'm sure.
As we go to post this interview on the official competition website, there are three shows left in the finals.  Three shows to determine this year's winner.  What can people who are coming to see those shows going to see from Graham Kay?
GK:  Well depending on how the competition is going either a loose guy who has accepted defeat or really uptight guy who still thinks he has a shot.
The competition will end on Sunday December 1st.  What comes up next, after that, for you, Graham?  Got anything big lined up?
GK:  I'm going to hit the road and try and save some money. I'm trying to get my American work papers and owe my lawyer 5 grand even though I may not get them. Winning this competition would really help my chances of being able to do comedy in the United States because it's considered an major award and your government likes that.
So, winning this competition would mean that a lot to you…
GK:  It would mean that I can do comedy in the United States and try and realize my dream. Also with the money I can pay my immigration lawyer and not borrow money from the bank.
Click here for Graham Kay's official SICC-34 Biography.