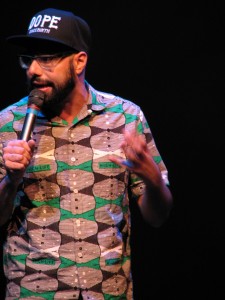 32 comedians, out of over 1300 that were considered, were chosen for the 34th Annual
Seattle International Comedy Competition.  Ten of those 32 made the Semi-Finals and now only five remain–this year's finalists!
Might be nice to get to know each of them a little better, so here's an interview with one of this year's finalists.
Representing Toronto, Ontario Canada…Dave Merheje!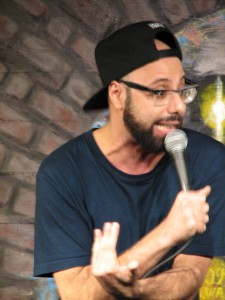 Congratulations on making the finals of the 34th Annual Seattle International Comedy Competition, Dave.  How does it feel?
DM:  I feel good. Real good and proud, because it was tough competition.  You perform many shows and it can be up and down, so it makes you a better comic, I feel.  It's a prestigious event so I am proud once again.
Any favorite moments from the competition, so far?
DM:  There's been a lot!  I think it's the joking back stage.  That's real important to me.
What's been the biggest challenge for you in participating in this competition?
DM:  The preliminary round.  It was 5 minutes!  So, for me, it was tough.  I tell stories and rant and it may take awhile for the audience to "get" my style, because I am me up there.
You're a pretty big star in Canada, Dave…you're on MTV there, you've won a bunch of awards. Is it strange to be a somewhat-unknown quantity here in the States?
DM:  Its weird but I don't spend much time in USA, so I get it and it makes me work harder to change that.
And what is the comedy scene in Toronto like?
DM:  The comedy scene in Toronto is great!  A lot of rooms to go up on and really develop an act.  And, there is so much talent in Toronto!  Very funny people and good-hearted people.
So, that's what's all going on now…let's go back a few years and talk about how you started in stand-up comedy.
DM:  I have always wanted to perform and, when I was little, myself, my sister and my cousin would tape ourselves on cassette…doing imitations of famous people and we would act sitcoms we made up.  When I was 15, I told my best friend at the time, Rody, that I wanted to do stand up.  My uncle showed me Eddie Murphy and Andrew Dice Clay specials and then I saw Richard Pryor with my mom and I was like "Yes! I've got to do this!"

So, Richard Pryor would be your comedy hero?
DM:  Richard is my favorite of all time.  I learned from him that you can be vulnerable and expose yourself up there and be funny.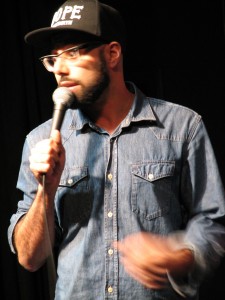 Assume that everything goes exactly the way you want it to in your career…what is Dave Merheje doing? Paint a picture of the dream for us…
DM:  I get to do a show about my life, kinda like Tim Allen and Ray Romano and Loius CK did.  And also, get into movies.  I want to start to act and take more classes.  I would like to do a stand-up special and tour the world.
What do you think about the other comics who are in the finals of this competition with you?
DM:  They're all funny and good people.  That's the important thing:  good people, and we get along.
Five more shows coming up here in the finals of this year's Seattle International Comedy Competition.  What should people who come to these final shows expect to see from you?
DM:  A great show…a great performance.  I will leave it all up there.
This competition will end on December 1st.  What's on your schedule after that?  Got any big plans or events on your calendar?
DM:  I head back to Toronto to film a pilot episode with a fellow very funny comic from Toronto.   We have a show idea and a production company is going to film it.  Then, off to Winnipeg for 2 shows, Thunder Bay , and Toronto for a New Years Eve show…and then the Windsor Comedy Festival.
If you win the 34th Annual Seattle International Comedy Competition, Dave…what will that mean to you?
DM:  It will be special in my heart, because I believe it will be my first USA victory in a competition.
And, last question…what will you do with the prize money?
DM:  Spend the money on clothes, for sure.  Hats, man, hats!
Click here for Dave Merheje's official SICC-34 Biography.