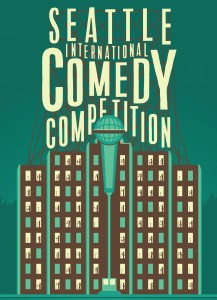 We're happy to introduce you to the 32 talented performers who were selected to participate in this year's Seattle International Comedy Competition.
You can read each competitor's bio, see a picture of them and find links to their website, Facebook page or Twitter account (if they have those things.)
If you click the link for 2013 Comedians, you'll find a list of the performers, divided by which Preliminary Week they will be performing in.  From that list, you can click on the name of a comedian you're interested in finding more about and you'll go right to their bio post.
Congratulations to these performers…and good luck!