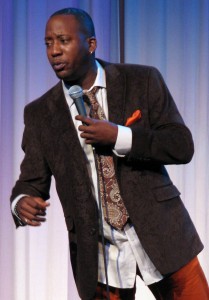 Welcome to the third (in a series of five) interviews with each of the finalists in the 34th Annual Seattle International Comedy Competition.
The comedians who have made the finals of this event had to be selected through the months-long application process.  They then competed against fifteen other performers in their Preliminary Week and then against nine other performers in the Semi-Finals Week. Each time, they had to make the top five from that week to move on to the next week. This week, the Finals Week, there are only five comedians.  And only one will be crowned this year's champion.
If you've been following along with this year's competition here on this website, you've seen names and some faces in some group pictures…but it wouldn't be a bad idea to get to know each of them a bit better.
That's the point of this series.  So, here's another interview with one of our finalists!
Representing Chicago, Illinois…Trenton Davis!