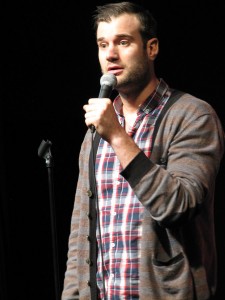 This is the fifth and final interview with the finalists for the 34th Annual Seattle International Comedy Competition.
Five performers survived the talent selection process, they made it through their Preliminary Week and advanced to the finals by making the top 5 in the Semi-Finals Week. It's a pretty major accomplishment in itself just to make it this far, but none of these five performers is satisfied with "just making it this far."  They want to be the one to claim the title of Seattle International Comedy Competition champion all for themselves.
We thought you'd want to know these talented individuals a bit better.  That's why we conducted this series of interviews with them.  You've already had the chance to meet and get to know Trenton Davis, Zoltan Kaszas, Rodger Lizaola and Dave Merheje.  It's now time to meet the final remaining finalist for this year's competition.
Representing Toronto, Ontario Canada…Graham Kay!